Tropea is one of the most popular Italian cities located in the region Calabria, in the south of Italy. Considered one of the country's most exclusive resorts. The characteristic cliff on which the historic center of the city is located, the beautiful and wide beaches and the turquoise color of the water make Tropea one of the most popular destinations for tourists planning a vacation. If you like to sunbathe it will be the perfect place for blissful relaxation. The beaches located in and around the city are compared to those of Sardinia, some of the most beautiful in the entire country. Diving and water sports can be enjoyed there, so both those who like sunbathing and activity will find something for themselves. Tropea is a city where you will also find numerous monuments, and in the city center you will taste the best dishes. The cuisine is dominated by red onions, which are grown in the area. Interestingly, it is added to practically everything. You can even find ice cream flavored with red onion. In addition to its delicious cuisine and paradisiacal beaches, Tropea is famous for its numerous attractions for tourists. It is a city with a typically Italian atmosphere, full of narrow streets and architectural wealth. During a trip to the beach at sunset, you can see the Stromboli volcano about 60 kilometers away.
Attractions - what to see in Tropea?
Santuario di Santa Maria dell'Isola
This is undoubtedly one of the biggest attractions of this city. The shrine is located on a rock, which makes the view from here breathtaking. It dates back to the Middle Ages, and the staircase by which you can get to the church was built in 1810. There is a legend associated with this place. One day a wooden statue of the Madonna was brought to the city. The mayor and the bishop decided to place it in a natural cave. However, the statue turned out to be too high. So a carpenter was called in to cut off the Madonna's legs. As soon as he laid down the saw, her arms were paralyzed. And the mayor and the bishop died at that moment. From then on, Our Lady performed miracles - healing the sick when they came to the place where the statue was placed.
Piazza Ercole
This is a square located in the middle of Tropea's historic center. It is known as the Square of Hercules, the legendary founder of the city. Around the square you will find numerous bars and restaurants crowded by locals and tourists. At the same time, it is an ideal place for evening strolls.
Chair
It was built around the 12th century. It has been damaged and restored several times due to earthquakes. At the entrance we can see two airplane bombs. They were dropped on the church during World War II. However, there was no explosion. Many people believe that it was influenced by divine intervention.
What else to see in Tropea?
In addition to its beautiful beaches and sights, Tropea is famous for its beautiful harbor. There are yacht clubs and diving schools nearby. You can also take advantage of organized boat tours. One of the sea caves and beaches is Grotta del Palombaro, which can only be reached by boat, but the views are amazing. Another attraction is also Grotta di San Leonardo. It is located at the end of the beach Spiaggia della Rotonda. It used to be a place for fishermen to store fish, and today is one of the tourist attractions in the city. Also worth a visit is a store selling handmade figurines called Artistic Creations The Lighthouse.
Beaches
The beaches in Tropea and the surrounding area are considered among the most beautiful due to the unique turquoise color of the water, which, combined with the rocks, cliffs and golden sand, provide unforgettable views. The most popular of these are Spiaggia della Rotonda. Its big advantage is the beautiful views of the cliff on which the city is located. The beach is free of charge. There is also a parking lot not far from it. This beach will be ideal for those who like relaxation and paradisiacal views. Another noteworthy place to catch the sun's rays is the Acquamarina Beach. About 4 kilometers from the center of Tropea you will find a beach Spiaggia Michelino located in a town called Parghelia. It is an ideal place to relax for those who like to get in touch with nature. There are no deck chairs, umbrellas or lifeguards there. However, the beach itself, with its turquoise color and sweeping cliffs, attracts crowds of tourists. It is also a popular place for diving.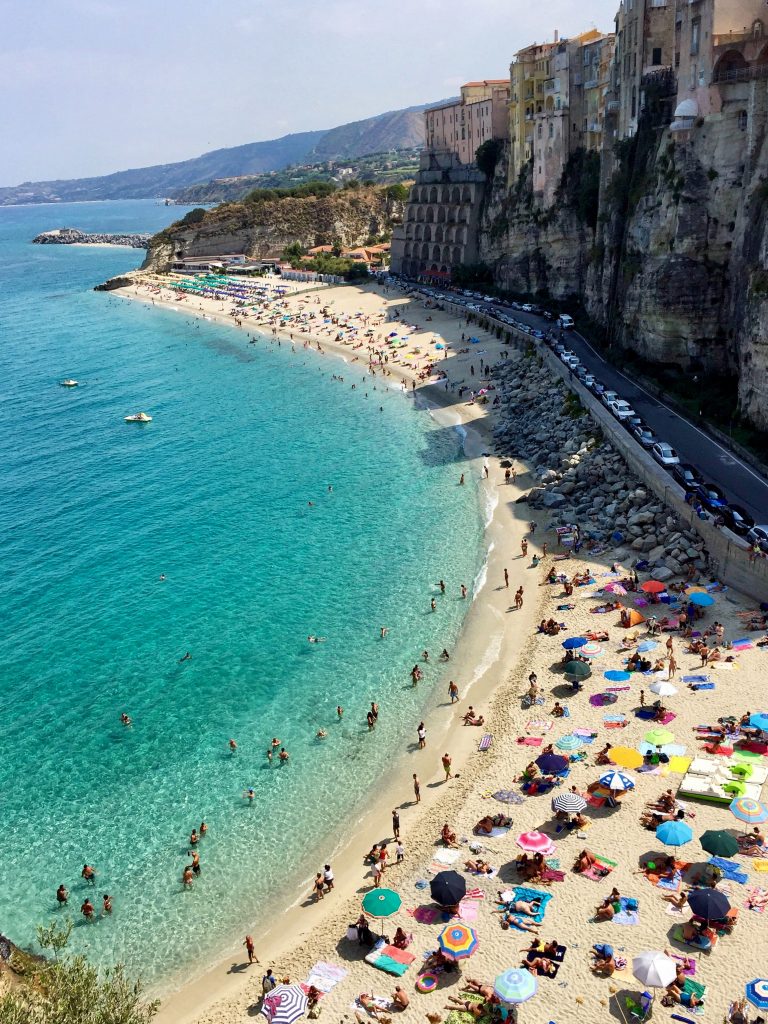 Tropea - how to get there?
To get to Tropea you can choose to fly or travel by car. Using one or the other means of transportation has both advantages and disadvantages. There is no airport in the city of Tropea, so when choosing to fly by plane we have to buy a ticket to Lamezia Terme. Such flights are offered by the airline Ryanair From Krakow, and tickets can be found from as little as PLN 39. The distance from the airport to the center is about 60 kilometers. Upon arrival, you can rent a car, especially since it will make exploring the city and its surroundings much easier. To get to Tropea you can take a cab or a bus. Traveling by car also has its pros and cons. Tropea is located in southern Italy, which means that the route from Poland is more than 2,100 kilometers. If we want to visit only this city and its surroundings, it is better to choose a plane flight and rent a car, which will get us from the airport and explore the destination city and its surroundings. However, if we want to explore other Italian and European cities, an excellent choice will be our own car. This will be an ideal option for those who are focused on sightseeing. However, we must not forget about parking fees, highways and vignettes.
Public transportation
Public transportation in the area is not very convenient for tourists. Buses are mainly used to transport employees or students. Information about courses and schedules is limited. Wanting to visit the coast Calabria, you can choose local trains, which will easily take you to the most attractive resorts.
Kitchen in Tropea
The first and most important symbol of Tropea's cuisine is the red onion, which can be found almost everywhere. It is an accompaniment to dishes, desserts, and you can also stock up on preserves made from this vegetable, which is grown in the area and considered the best. Another local product that is a must try is nduja, which is a spicy and soft sausage that is served as an appetizer or as a main course. If you are in Calabria region then you can't miss a dessert called tartufo. It's an ice cream made up of several flavors. They are hand-formed. In the center is melted chocolate.
Weather
The warmest months in the city of Tropea are from June to September. The average daytime temperature is over 21°C. The number of hours of sunshine is 9-11. The lowest temperature is forecast for December, January, February and March. This is also when you can expect the most rainfall.
Accommodation - where to sleep in the city of Tropea?
Accommodation prices depend mainly on location and guest amenities. However, after verifying accommodation offers, you can find facilities at really low prices. Such an example is the T-Room. For the price of 188 zloty per night for two people, we have a private bathroom, TV, air conditioning and a balcony. The property has a terrace and car rentals. It is located near Acquamarina Beach. Another accommodation worth noting is the Hotel Colomba D'Oro. It is located about 500 meters from Marina dell'Isola beach. Interestingly, the property has bicycle rentals on offer, so if you are a fan of such activity there are many bicycle routes nearby. The price for an overnight stay for two people including breakfast is 320 PLN.
S'O Smart B&B Tropea is also worth mentioning. It is located near the beach and just 100 meters from the cathedral. For an apartment for three people with a sea view for one night we will pay 384 PLN.
What is worth buying and bringing back from Tropea?
Surely more than once you have wondered what to bring back from a vacation in Italy. Souvenirs? Regional products? Where to find them and what specifically to choose? I will try to briefly advise you. Since each region of Italy is famous for different local products, spirits and wares, it is worth bringing such delicacies to Poland, especially if you are traveling by your own car and are not limited by the weight of your luggage. What exactly is worth bringing when going to Tropea? The most popular product as we mentioned above is red onions. It is worth stocking up on onion mousse (it will be a great addition to meats, for example). Another local preserve is nduja di spilinga, which is a spicy and very soft sausage with salt and peperoncino. It can be added to pizza, pasta, or as a paste for bruschetta, for example. Also look in local stores for a typically Calabrian pasta called fileja. Of the stronger drinks, it is worth stocking up on vecchio amaro del capo (or herbal liquor).