One of the biggest attractions of the Tuscany region are the natural hot springs that are found here in large numbers. Some are part of spa complexes, and some are available completely free of charge. Natural thermal baths undoubtedly have the advantage that while taking a bath we are outdoors and in touch with nature! On top of that, we don't pay admission! It doesn't matter whether we are in Tuscany for a long time or just passing through - such an attraction you can't miss.
In addition to their relaxing qualities, hot springs also have a salutary effect on our ogranism. People have been taking advantage of the healing properties of thermal waters for hundreds of years. This is due to the wealth of minerals contained in them, especially sulfur.
So let's see where natural hot springs occur in Tuscany.
Natural hot springs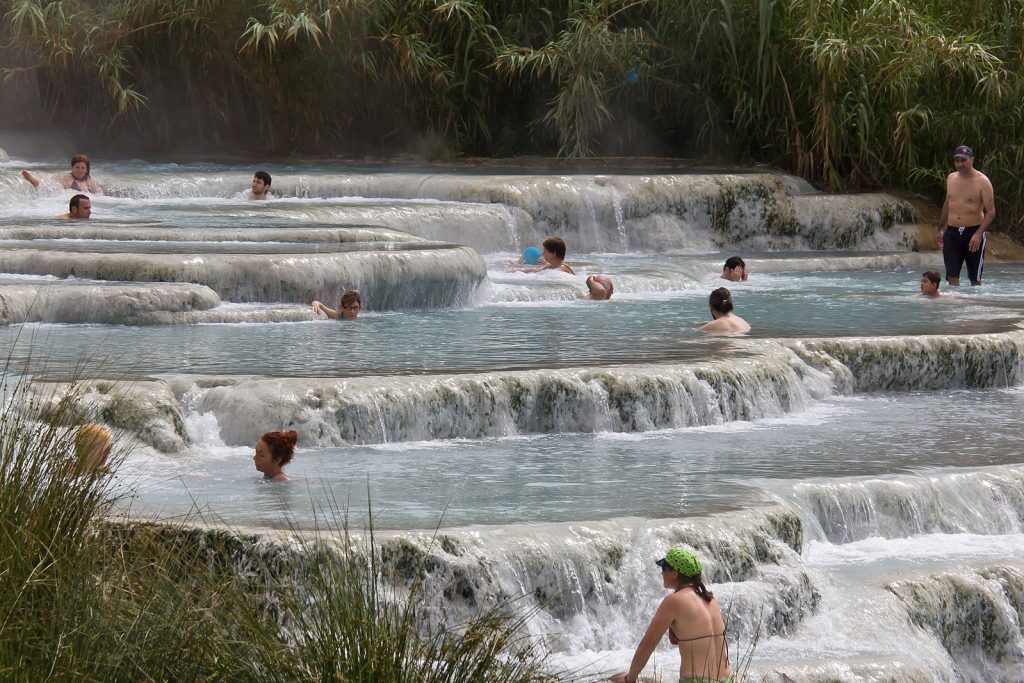 Terme di Saturnia - Cascate del Mulino
Saturnia are the most notorious natural hot springs in this region of Italy. The water flowing out here has a temperature of over 37°. The water here is saturated with sulfur, resulting in a characteristic smell that can seem irritating. Hot springs Terme di Saturnia Are very distinctive. The water here is silky blue, and the springs themselves are on several levels. These Tuscan thermae look like a kind of cascade. Nearby there is a spa resort - However, the sources in question are completely free and available every day! The best way to come here is by car. Right near the springs there is a parking lot. The place is increasingly famous so it can be crowded in high season! So it is best to come here in the off-season, or in the morning.
Bagni di San Filippo
Another all-natural swimming area is Bagni di San Filippo. The distinctive feature of this hot spring is a huge limestone rock formation. No wonder, then, that this place is called "white whale" on Google maps. The first thermal pools can be found just outside the town. They are quite shallow, but if we follow the path further our eyes will see beautiful waterfalls and even more springs. It should be noted that these thermal baths are besieged by tourists as well as native Italians. So it is worth going there during the off-season and weekends - preferably during the week.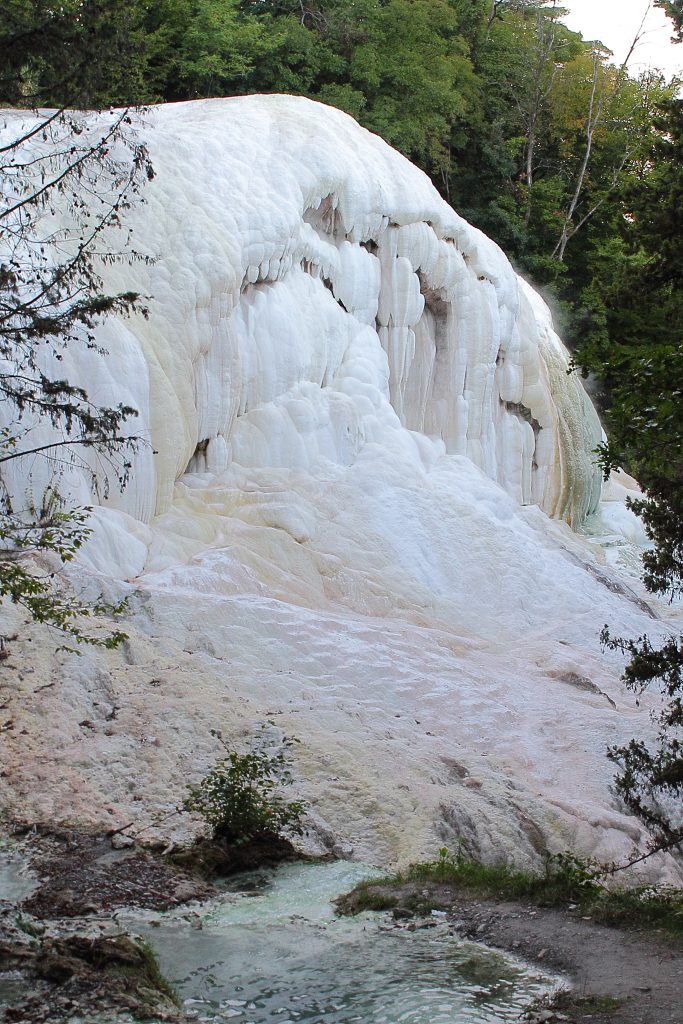 Bagni di Petriolo
The third natural hot springs in Tuscany, where we will take free health-promoting baths, are as follows. Bagni di Petriolo. The place is worth a visit primarily for less crowding than the previous two places. Bagni di Petriolo is definitely more quiet and intimate. These thermal baths are located between the villages of Siena and Grosseto. Here, too, it is best to come by car. The water temperature in Petriolo reaches up to 42°, which makes swimming pleasant even in winter!
Bagno Vignoni
The last item on the list of natural thermal springs in Tuscany is. Bagno Vignoni. It is located approx. 18 km. from the Bagni di San Filippo thermal baths. The characteristic pool is located in the center of town and is less than 50m long. Today, bathing here is prohibited and this pool can only be admired from the outside. To take a bath here, you need to go a little further and lower, where you will find two geothermal pools.
While in Tuscany in the Siena area, it is worth taking a trip in search of hot springs. This is undoubtedly a huge attraction of the Tuscany area. However, as already mentioned, it is worth bearing in mind that these natural thermal baths can be crowded.