Siena is a picturesque Italian city in the center of the Italian peninsula. The city with ancient roots has a lot to offer tourists hungry for historic architecture, good weather and excellent cuisine. How to get to Siena and what to see in this Tuscan city? Take a look at our Siena city guide!
Siena - Tuscan jewel of the Middle Ages (description, history)
Tuscany is famous for its beautiful landscapes and delicious wines, but it has much more to offer than green-covered hills and sprawling vineyards that are the graceful setting of Hollywood blockbusters. This region of Italy is also atmospheric cities with an interesting history, which offer tourists a wealth of museums, historic buildings and world-class works of art. One of the most interesting stops on a trip through Tuscany is Siena. During the Middle Ages The city was among the richest in Europe - After its heyday, it was left with numerous architectural gems that today attract more than a million tourists a year to Siena.
Legend has it that the city was founded by the sons of Remus, fleeing from Romulus, who built the castle of Senio in the Tuscan hills. This story is reflected in Siena's symbol, depicting a she-wolf while feeding the boys - the symbolism can be picked up in many parts of the city. Historically, the origins of Siena date back to antiquity; it was originally an Etruscan settlement. For the first few hundred years, Siena was not important in the regionand worked steadily for its status for centuries. The city developed intensively in the 12th and 13th centuries due to the textile industry, trade and later banking also contributed their share to the development - the city was located near numerous transportation routes and was an important player in the world financial market.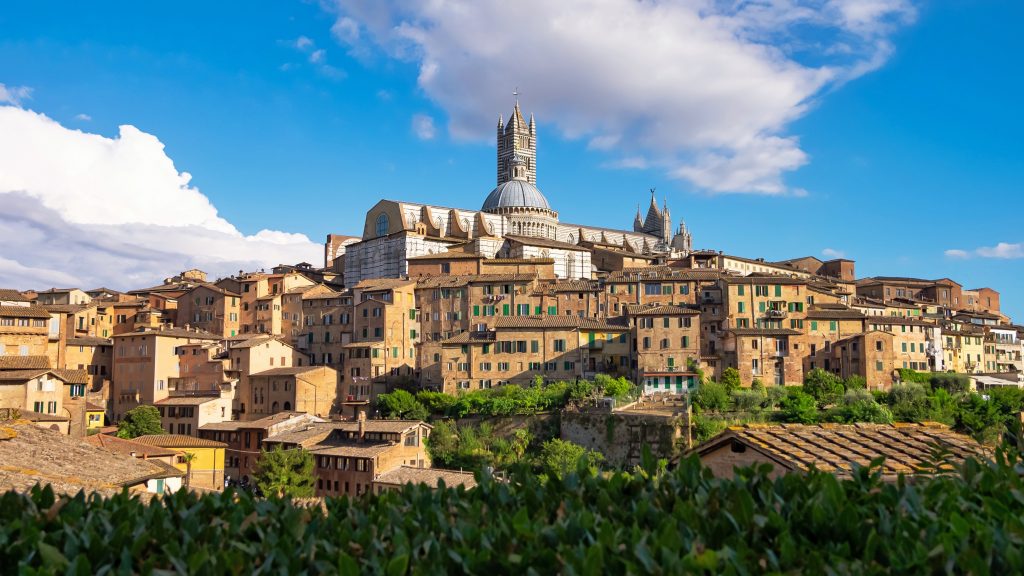 Siena's intense development during the Middle Ages is still evident today in the city's buildings and numerous monuments. For centuries Siena competed with Florence for the palm of supremacy in the region. It eventually lost this clash, and many factors contributed to this, from the plague epidemic in the 14th century to political turmoil. For the modern tourist, the city survives as a well-preserved monument to the old days, however, offering all the necessary amenities - Siena invests heavily in tourism infrastructure, which translates into excellent results. Siena is one of the most visited places in Tuscany and is suitable for at least a weekend stay.
Tourist attractions in Siena
Piazza del Campo
The best proof of Siena's uniqueness is that the historic center of the city has been declared a UNESCO World Heritage Site. Siena's assets are its original medieval layout and very well-preserved buildings. The central place in Siena is the Piazza del Campo - A huge city square that, from a bird's eye view, resembles a shell in shape. As part of the annual festival, horse races are held here in July and August, attracting crowds of observers. On ordinary days, the square is also crowded - not only tourists with cameras gather here, but also vendors of local products. The square is a good meeting place when visiting in a group - standing in the middle of the square, we have many noteworthy places to visit in sight. The square was built in the Middle Ages at the decision of the Council of Nine, which ruled the city, and the purpose of the construction was to create a gathering place for local residents. To this day, the square is still one of the most visited and recognizable places in Siena.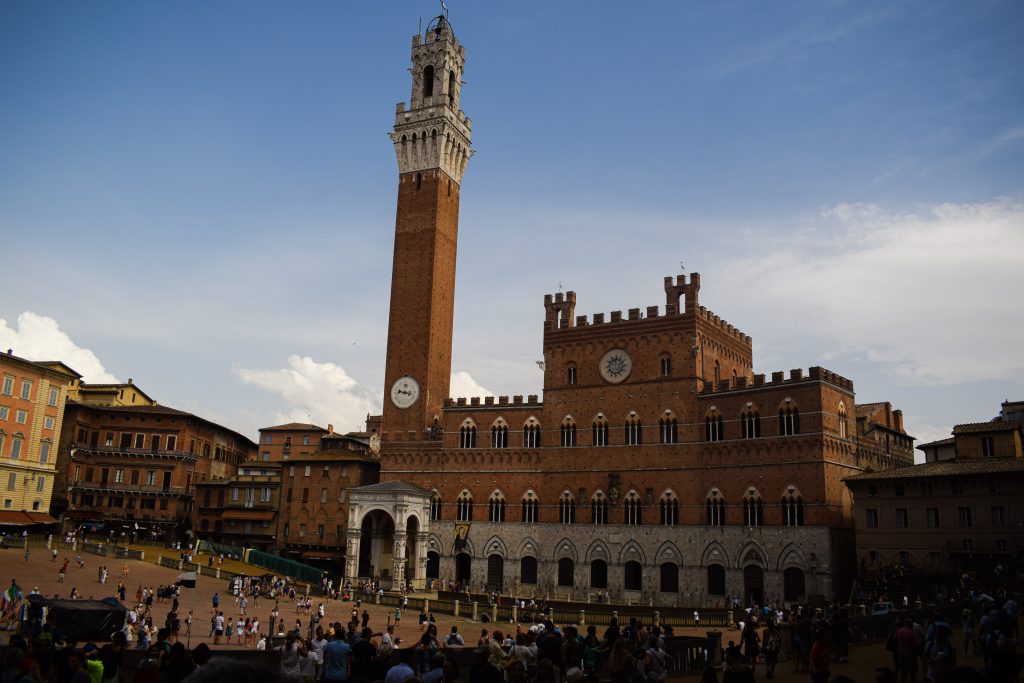 Fonte Gaia Fountain
Surrounded by late Gothic buildings, Piazza del Campo is impressive in every season. In summer, special attention of tourists is attracted by the monumental Fonte Gaia fountain, which is distinguished by a decorative stone frame with numerous bas-reliefs depicting biblical scenes (the creation of Adam and the expulsion from paradise). There are also sculptures of a she-wolf, referring to the legendary symbolism of the city. The fountain itself dates back to the 14th century, but the framing was added decades later, and in the 19th century the original marble panels were replaced by copies. Fonte Gaia is therefore a testament to the many transformations that have taken place in the city over the centuries.
Pallazzo Publico
Another well-known attraction located in the immediate vicinity of the Piazza del Campo is the Pallazzo Publico, once the seat of the city government, built at the turn of the 13th century. The most famous feature of the palace is the bell tower Torre del Mangia, whose height is 102 meters. The tower is one of the remnants of Siena's rivalry with Florence - it was deliberately built to be higher than the one in the rival city. At a height of 88m there is an observation deck, to which queues of tourists line up. This is not surprising, as the view from the top rewards the long wait. Admission to the tower is paid, however, and costs €8. The Pallazzo Publico is a building maintained in the Italian medieval style with Gothic elements. Today, inside the palace, on its second floor, there is a museum (Museo Civico), which houses numerous documents and works of art related to the city's history. The museum operates year-round, and the cost of admission is €11.5.
Piazza del Duomo
Just 200 meters from the Piazza del Campo is located another famous square - the Piazza del Duomo. It also has dozens of tourist attractions nearby, and the one that attracts the most attention is the Romanesque-Gothic Duomo di Siena Cathedral, built over the course of the 13th and 14th centuries. The city had a very ambitious plan to create the largest Christian cathedral in the world, but further expansion was thwarted by a plague epidemic in the mid-14th century. Today, the monumental building hides one of the oldest private museums in Italy (Museo dell'Opera Metropolitana del Duomo) and provides an observation deck. The museum is especially recommended for admirers of sacred art - it offers dozens of unique exhibits and world-renowned works of art. The cost of a ticket that entitles you to visit the entire museum complex is 15€, 5€ more expensive is the ticket that also allows you to enter the roof of the cathedral.
Pinacoteca Nazionale
Another treat for art lovers is the national museum Pinacoteca Nazionale, located only a 2-3 minute walk from Piazza del Duomo. Opened in 1932, the museum is a collection of outstanding works of the medieval and Renaissance periods, including especially paintings by Italian artists (such as Guido da Siena, Simone Martini and Bartolo di Fredi, among others). It is one of the most important art galleries in Italy. The cost of an entrance ticket is €8. The official website of the museum is here.
Further tour of the old city
Siena's historic center and adjacent neighborhoods are full of cultural highlights, so in addition to visiting strategic points on the city's tourist map, take a stroll through the network of squares and atmospheric streets, where every now and then you'll come across interesting architecture. The city is famous for its historic gates and portals, such as Porta Tufi, whether Porta Romana, a bit far from the strict center, but worthy of attention, especially for tourists craving a more intimate atmosphere. A good idea to spice up your tour of Siena is to rent a bicycle. There are bicycle rental shops in the city, and the cost of renting a unicycle is about €35 per day.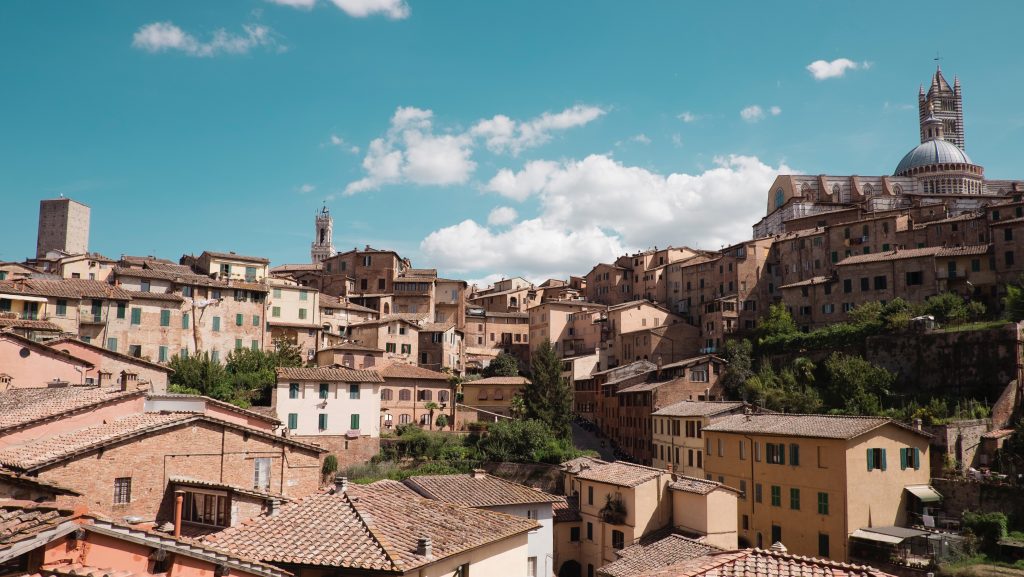 How to get to Siena?
Considering how long Siena has competed with Florence for the position of regional leader, it is somewhat ironic that today the easiest way to get to the city is from this metropolis. In Florence there is an airport to which, unfortunately, at the moment there are no direct flights from the Polish capital. From Warsaw or Wroclaw we can get here by plane using airlines such as Lufthansa or KLM. These are routes with a stopover - for example, in Munich. Ticket prices start at about 600 PLN one way, although it is worth keeping an eye out for bargains. From Florence you can comfortably get to Siena aboard a train - the journey time is 75 minutes, and the cost of a ticket should not exceed €10.
Unfortunately, there are no low-cost airlines flying to this part of Italy from Poland. Those traveling from Warsaw or Krakow, who care about keeping travel costs to a minimum, can think about a direct flight to Bologna - Such flights are offered by Ryanair, and ticket prices are often only a few dozen zlotys. From Bologna you can get to Siena by train Trenitalia With 1 change in Firenze. Train travel time is about 2.5h. For this route, you should be extra vigilant, because for some connections the time to change trains in Firenze is less than 10 minutes. Fortunately for latecomers, trains on this route are plentiful, so arriving too late on the connecting train will extend the trip by several tens of minutes. Train fares vary widely, ranging from just over €16.5 to nearly €29.
Siena - weather. When to go to Siena?
Siena is located in the heart of the Italian Peninsula and is characterized by a mild, moderately warm climate. In summer, rainfall is low and temperatures are high. The best time to come to Siena is in July or August - the average daytime temperature then is about 28 degrees, and at night it stays above 15 degrees. These are also the months with the lowest rainfall - less than 60mm per month. The coldest month in Siena is January, with an average daily temperature around 8 degrees, and the rainiest month is October - almost 100mm of precipitation per month falls here then. The cold season here lasts for less than four months, from November 17 to March 10 - then the average daily temperature is just over 10 degrees Celsius.
What to eat. Tuscan cuisine in Siena
Tuscan cuisine combines the best of Italian flavors - you will find especially juicy meats, aromatic spices and an abundance of fresh vegetables. Mushrooms are also popular, especially boletes, which are in season in September and October. Although pasta is not as popular in central Italy as in other regions, it is still a regular part of local cuisine.
Particularly popular is the regional pasta, the thick strands of pasta from the Siena area called pici, made from flour, water and salt. This pasta is traditionally served with a thick, flavorful sauce and can be ordered in many restaurants in this part of Italy. A dish that originated in Siena is also Acciughe sotto pesto, which is salted anchovies marinated in olive oil with a blend of spices. This dish functions as a stand-alone snack, and is also served with toasted bread.
Traditional specialties from Siena are Berriquocoli, which are rustic cookies with honey, candied fruit and walnuts. These cookies are similar to the popular cavallucci (Tuscan Christmas cookies), except that they are larger than them and use slightly different flavorings.
Bread is a common side dish in regional cuisine, and traditional Tuscan bread (pane toscano) does not contain salt. In contrast, the most popular soup in Tuscany is the ribollita - a thick, long-cooked dish with a rich composition dominated by vegetables. Tuscany is also famous for its cheeses, especially cheese pecorino with an intense flavor, whose fame has also reached Poland. Among traditional Tuscan products, of course, should be mentioned oil and - above all - wine. When visiting a local restaurant, it is worth ordering a glass of the regional beverage for dinner - the most popular here are red, dry wines from the strain sangiovese.
Overnight in Siena
Siena has an abundance of accommodation of varying standards - from upscale hotels and apartments, to mid-priced guesthouses and budget hostels. High season prices start at around €50 for a double room with shared bathroom. A recommended option is private apartments - a good bargain can be found for as low as about 65€, and guarantees greater privacy and, most importantly, your own bathroom. It is worth noting that even those accommodations that offer the lowest prices are generally located in the center or in its immediate vicinity. They are therefore a good base also for a quick evening dinner with a glass of wine.
Interestingly, Siena also offers decent prices for accommodation in higher-standard hotels. Daily costs for a stay in a 4-star establishment start at around €90 per room, which is really not bad by Western European pricing standards.