Matera city located in region Basilicata. In 1993, it was named a UNESCO World Heritage Site. It also earned the designation of European Capital of Culture in 2019. Matera is a city carved out of rock. The houses that were built there were carved into caves or grottoes. Matera has its own unique atmosphere, which cannot be compared with any other Italian city. There are numerous monuments there, but above all, wonderful observation terraces from which you can admire the entire panorama of the stone city. Matera has also been used in numerous productions, including Mel Gibson's "Passion." The director's words about the city were: "[...] when I saw it for the first time, I lost my head, because it was just perfect." It was almost immediately chosen as a site showing Jerusalem and Golgotha at the time. For history buffs and hikers, the Murgia Materana Regional Park is a great place to visit. There you will find numerous archaeological sites, churches and, above all, beautiful views. So if you like to visit cities that attract with their authenticity, history and perfectly preserved monuments, then you must visit Matera! Check out our guide to this unexceptional city.
Attractions of Matera
Sassi di Matera
These are two of the city's most popular neighborhoods, Sasso Caveoso and Sasso Barisano. They are located in the historic center of Matera. They are extremely atmospheric places full of winding streets, staircases and stone buildings, all combined with the extraordinary everyday life of the residents. It is the Sassi that attracts tourists who dream of taking a souvenir photo against such a unique view. In the evening, the neighborhoods are beautifully illuminated which gives a unique atmosphere. It is then worth going to the observation decks, which are one of the best attractions. Walking in the moonlight by the illuminated buildings allows you to feel the atmosphere of the rock city and guarantees an unforgettable experience.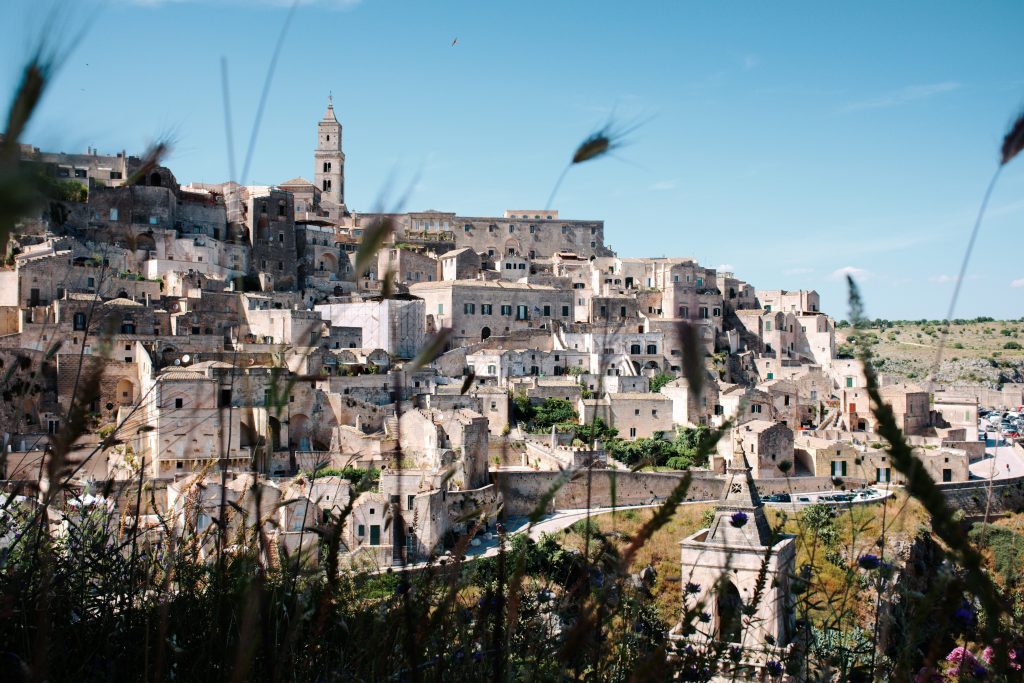 MUSMA - Museo della Scultura Contemporanea
This is an Italian museum dedicated to sculpture. It houses about 400 works, including ceramics, books and drawings. It is worth noting the unusual structure of the museum, a cave that fits perfectly into the atmosphere of the city. MUSMA is part of the Palazzo Pomarici. Admission to the museum costs €7.00, and a reduced ticket costs €4.00 (applies to children aged 7-25, groups of more than 20 people, and architecture and ASP students). Admission is free for children under 6, journalists and guides. More on the museum's official website.
Duomo di Matera
This is a cathedral that was built in the 13th century. It is located between the two districts of Sassi. It is dedicated to the Virgin Mary (Madonna della Bruna) and St. Eustatius. It has a Latin cross plan and consists of three naves. The cathedral is decorated with numerous Baroque-style decorations. It has a 52-meter tower, which can be admired from viewing terraces, as it towers over the city. Inside the church are numerous works of art. The most popular of these are a limestone nativity scene, relics and a fresco depicting the Last Judgment.
Ponte Tibetano della Gravina
This is one of the not-so-popular places, but certainly worth a visit. It is especially recommended for those who like hiking and even adrenaline thrill. However, let's move on to a description of this unusual attraction. Ponte Tibetano della Gravina is a Tibetan suspension bridge that sits over a stream. The bridge is located in the Garvina Gorge and connects the two banks of the river. Crossing the footbridge takes you to the Rock Church Park and the Murgia Plateau. The route itself is quite challenging. It is advisable to take care of proper footwear, attire and water. If you like hiking and have plans to visit Matera, this area is definitely worth seeing.
Saint Mary of Idris
It is one of the most beautiful churches in the region. It was carved into the rock and is located at the top of Monterrone, a limestone cliff. The church also includes a crypt. It is dedicated to San Giovanni in Monterrone. The interior of the church is modest, but has an unusual atmosphere. It consists of one room decorated with numerous frescoes. There are also paintings of St. Anthony. The church also has a small bell tower.
Access
By car
One option for getting to Matera is to travel by your own car. However, we need to keep in mind the route, which is nearly 2,000 kilometers. This will be an ideal option for those with a sightseeing mindset, as you can stop in numerous both Italian and European cities along the way. Traveling by your own car makes it much easier to get to all the attractions and sights you want to see, as you are not dependent on public transportation. When taking such a trip, you should keep in mind the fees for highways, vignettes and parking lots.
By Plane
The second option is to fly by plane. This is certainly a cheaper and faster option to get there. The nearest airport is located in Bari, which is about 70 kilometers from Matera. Direct flights from Poland are offered by Ryanair from Krakow and Warsaw. Tickets can be found from 49 PLN. To get to Matera we must first get to the center of Bari (located about 12 kilometers from the airport). Such access is possible by bus or train. You can also take a cab. Then we already travel directly to Matera. The full schedule of buses or trains that we can use to get from Bari to Matera can be found on the carrier's website: https://ferrovieappulolucane.it.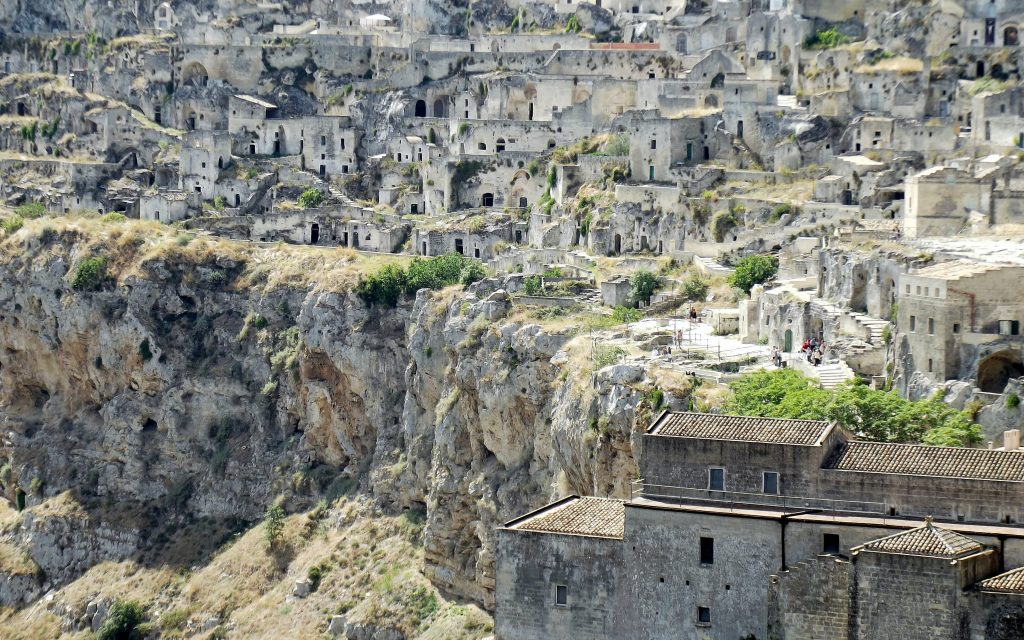 Beaches near Matera
The nearest resorts with beautiful beaches are in the city of Bari, about 65 kilometers from Matera. You can get there by bus, or by train. There you will find the most popular of the beaches, namely Pane e Pomodoro, which is an ideal vacation option for families with children. There are numerous cafes, restaurants and playgrounds nearby. It's also worth a trip to Lama Monachile beach, which is located in the historic center of the city and is one of the most popular beaches for its incredible views.
Cuisine. What's good to eat in Matera?
One of the most popular local products is bread. It has a long-standing tradition. It is baked on sourdough along with the addition of double-milled durum wheat grains, salt and water. It is worth mentioning that this bread is becoming known as the tastiest in Italy. In Matera, toasts with local cured meats and truffles are extremely popular. Also worth trying is orecchiette al tegamino, which is pasta baked with mozzarella and tomatoes.
Weather. When to visit Matera?
The warmest months in Matera are from June to September. This is when the average daytime temperature is over 20°C. These months also have the highest number of hours of sunshine. The coldest months are December, January and February. Then the average daytime temperature is below 8°C. The most frequent rainfall is forecast for March, April and November.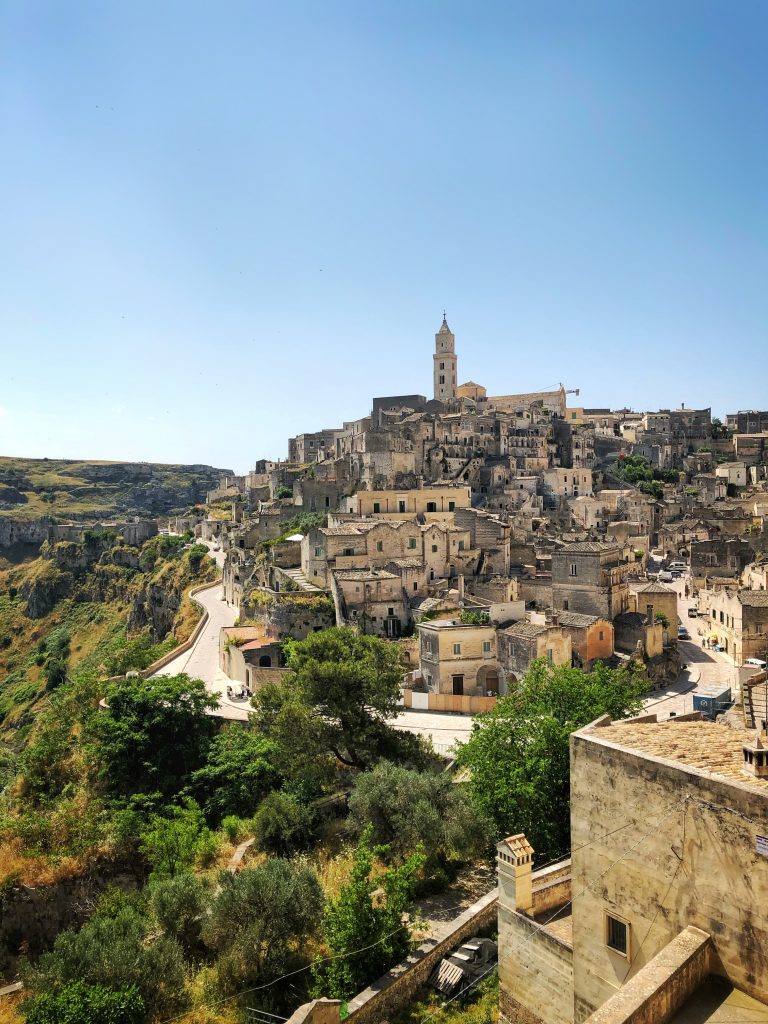 Accommodation
Accommodation prices depend on location and guest amenities. However, reviewing the offers of hotels and other facilities, you can see that prices in the city of Matera are higher than in other resorts that are much more popular with tourists. Of course, you can find cheaper accommodations. For example, Apartment Chapeau located near Tramontano Castle or Casa Grotta nei Sassi. For an overnight stay for two people you will pay 229 zloty.
Another place worth considering is the Cave Rooms Sassi facility. If you want to feel the atmosphere of this unique city then this place is definitely worth considering. The room - a cave provides definitely an unforgettable experience. The property is located near Tramontano Castle and Matera Cathedral. The price for an overnight stay for two people is 348 zloty. Another facility is Acqua Dolce, located near Lanfranchi Palace and San Pietro Caveoso Church. The price for an overnight stay for two people including breakfast is PLN 718.