Positano - a beautiful and charming town just perfect for a romantic getaway for two? Is it really so, I will try to tell you briefly about the pros and cons of this fabulous town.
Positano is a town located in region Campania, in the province of Salerno. It is a charming town located on the Amalfi Coast. It is a place full of beautiful corners, typical Italian narrow streets and fabulous landscapes. It lies between Naples, Sorrento, and Salerno.
How to get to Positano?
The fastest way to get to Positano is by taking a flight to Rome Or Naples. Of course, we can get there by car from Poland, well, but such a trip deserves a separate article. So let's focus on the first two options.
To Positano from Naples
Getting from Naples to Positano is fairly easy. Sam Naples It is located only 60 km from this beautiful town. So it will be best to go by train Circumvesuviana to Sorrento (the train between Naples and Sorrento runs on average every 30 minutes), and further by bus to Positano itself. It is worth stopping and visiting Sorrento, as it is also one of the most beautiful towns in Campania. Once you get to Positano, there are two stops where the bus stops. The first Sponda (and this is where I suggest you get off) and Chiesa Nuova.
We can also get from Sorrento to Positano by boat. This is certainly an attraction that will provide an additional power of excitement, and the views on this trip, will remain in your memory for a long time. The ship departs from Sorrento, the cruise lasts about an hour, and the cost is about 15€. This proposal is only available in high season (from April to October), although, in my opinion, worth attention - we can see these beautiful corners from a completely different perspective. In this case, the inlet is to the Spiaggia Grande beach in Positano.
We can buy tickets for the bus at the station (as far as I know, you can't buy tickets from the driver for the time being). Here I would like to draw your attention to the high season, then we have a lot more tourists. So I suggest you do not wait until the last minute to get to the bus stop. Unfortunately, sometimes the buses are so overcrowded that tourists are not taken.
To Positano from Rome
Going to Rome will be best rent a car. The airport is full of rental companies (such as Goldcar, Europcar, etc.). During our last trip we took advantage of the form of car rental through the airlines, just this option worked out the best for us in terms of price. Having rented a car, there is nothing more to do but to set off in the direction of beautiful Positano. We have about 300 km to drive. The road is mostly highway, ah... only the end of the road is a bit curvy, serpentine, but it's worth it for the views! The only problem may be to find a parking space. If you manage to do so, unfortunately, you can pay dearly for a parking space.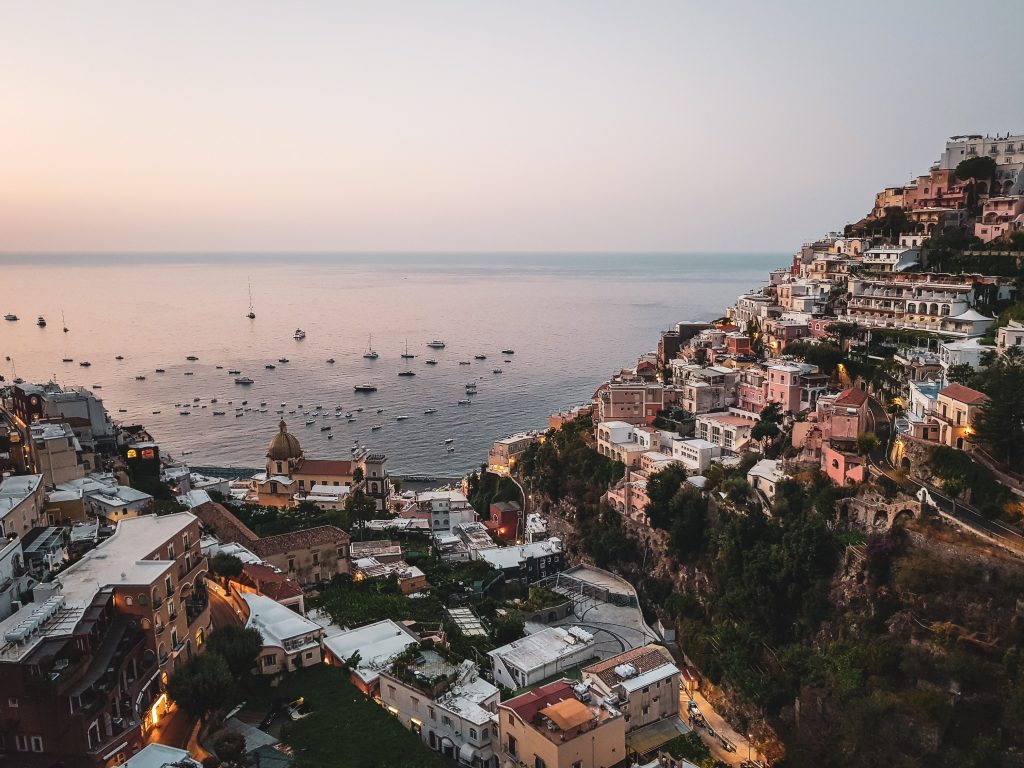 What to do in Positano?
City tour
The main attraction of Positano is actually exploring the town itself. Positano is an ideal place for walking. Every corner of the city is different and it is worth spending a day wandering aimlessly through the streets of Positano.
Santa Maria Church
In the central part of Positano is the beautiful Santa Maria church with its spectacular Moorish tiled dome. This church is also a major landmark so you won't get lost exploring the city.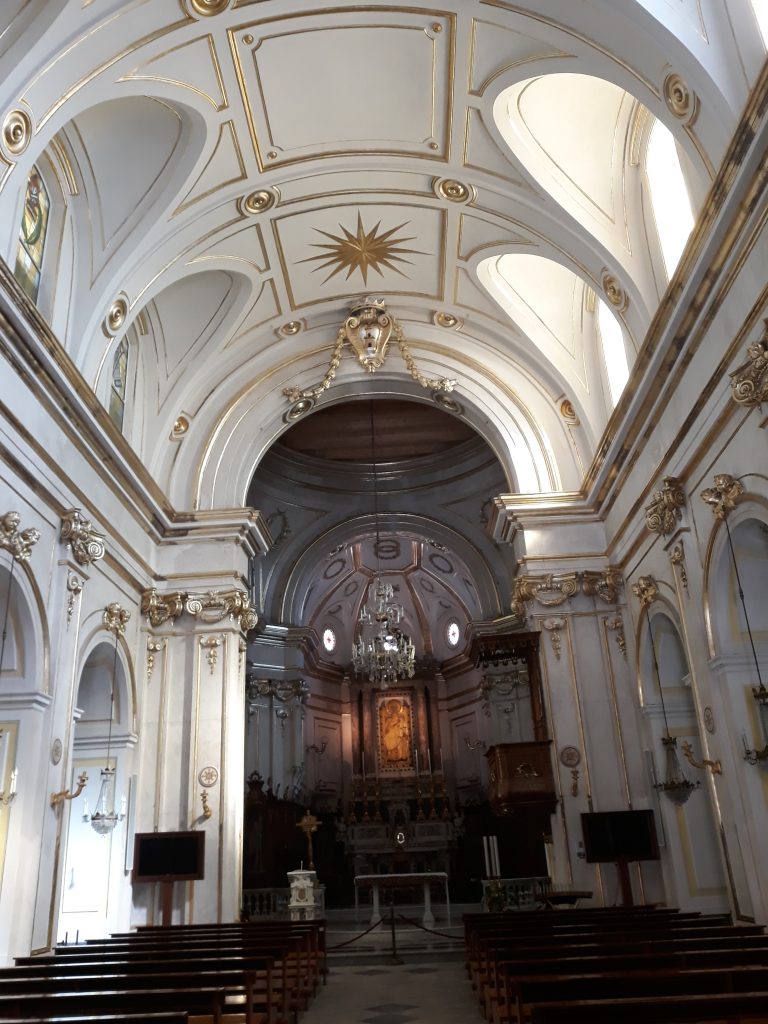 Ferry cruise
If you're wondering what else to do while in Positano, a good idea would be a boat cruise. We can go, for example, to the island of Capri - The cruise takes about 20-40 minutes, depending on the carrier. The cost of a ferry ticket from Positano to Capri is about €20.
Beaches in Positano
The coast in Positano, as in all of Amfali, is rocky and stony. We won't experience pleasant sand here, which, however, has its pluses as well as its charm.
Spiaggia Grande
Spiaggia Grande, freely translated as "big beach," is Positano's main beach. It is distinctive primarily because of its colorful umbrellas. The Spiaggia Grande beach stretches for 300m and is divided into a paid section (where we rent sunbeds and umbrellas) and also a free section. This place is very popular, because in addition to the possibility of lounging in the sun, the great attraction is the view of the town rising on the hill. For this view, it is worth going to the beach, even if you are not a fan of beachcombing. At the end of the beach is a rocky terrace Scogliera.
Fornillo
If you are looking for a more intimate beach, you should head to Fornillo. This beach is only a 15-minute walk from Positano. On top of that, the walk to this beach is a big attraction in itself - you go there along a charming coastal path.
What to eat in Positano?
As in any town or city in Italy, there will be no shortage of culinary experiences here. Positano will certainly not disappoint you in this respect. Now you have to answer the question what you prefer: more intimate pubs with tables outside in tiny streets, or more elegant places near the beach One of the places I can recommend to you are:
La Tagliata - Views insane, charming owner, prices super, this place is definitely worth a visit;
Ristorante Saraceno d'Oro - delicious homemade wine, very family-run diner. Something you must try in their rendition is gnocchi with tomato sauce;
If you are betting, on a more elegant place, then I suggest you go to Ristorante Mediterraneo and C'era una Volta. We have not personally been there, but a lot of people have praised these places.
As for all these restaurants, each one is sure to provide you with a delicious dining experience. From pizza ( I recommend trying the 4 cheeses), to moules in tomato sauce ( a local delicacy), gnocchi with tomatoes and basil, to pasta. And for dessert, as always, the unfailing tiramisu or - because we can find large quantities of lemons there - lemon sorbet.
When to go to Positano?
In fact, it depends on what you set your mind to, whether you prefer to laze on the beach or spend this time more actively putting mainly on sightseeing.
The nicest, but also the warmest months will be June and July, while then we can expect the largest number of tourists and I strongly advise you against this period. August - in this month Italians have vacations, hence it can be equally dense on the streets. However, these 3 months will be very hot. The temperature then is around 30 degrees.
Cool months to visit Positano, are also those in the spring period from March - June, the average temperature in these months here varies between 16° and 25°. Super season I think, is also early autumn: September and October. Here the temperatures stay around 23°, but there are definitely fewer tourists. We went in February, as well as in early June, and both dates we do not regret. In conclusion, I highly recommend you to go to and visit Positano. It is a place that will definitely remain in your memory for a long time.
Accommodation
As for this region of Italy, it is not one of the cheapest. Positano or Amalfi, will be a rather expensive choice. In high season, we will pay about €130 for a double room. However, everything depends, of course, on what you are betting on. If you care about a super base, with a beautiful view, a nice hotel and delicious food (despite the higher cost), I would definitely bet on staying in Positano already. However, if you prefer to approach this trip more on a budget, an interesting option would be to stay in Sorrento or Salerno. Here you will find a mass of guesthouses and small hotels run by wonderful Italians (a lot of private individuals advertise on AirBNB and there I suggest you always check your accommodation options).