Rimini is a city and municipality located in the Emilia-Romagna region. It is one of the most popular and popular vacation destinations in Italy among tourists. Rimini is famous for its beautiful and wide beaches. It is one of the cities enjoying great popularity, which is especially evident during the holiday season, when you can observe crowds of tourists taking advantage of the beautiful weather. It is there that numerous foreign camps are organized, as well as camps for children and teenagers. The beaches in Rimini are long and sandy, and the sea is warm and has crystal clear water. The city is also famous for its promenade and numerous stores, bars, restaurants that are located near the beaches. During the day you can hear the bustle and bustle of the city, and at night the party madness. Rimini will be an ideal holiday destination for families with children, as well as young people focused on the beach and partying. There are numerous bars nearby, where you can have a drink in the evening and feel the atmosphere of this unique city. It is also worth mentioning that in addition to the beautiful beaches, in Rimini you will also find numerous attractions and monuments, a park, and for cycling enthusiasts specially designated routes. In addition, Rimini is a real paradise for children. There are volleyball fields nearby, as well as tennis courts. An ideal option for fun will be a visit to the amusement park Fiabilandia. For families with children, the Aquafan water park with its numerous slides and pools is especially recommended.
Beaches
The beaches are undoubtedly Rimini's greatest asset. They are well-known and popular, and they are the ones that attract tourists thirsting for the sun's rays. The main beach is wide and stretches for several kilometers. It is divided into several smaller, mostly paid sections. Some accommodations have their own beach for guests. The biggest advantage of this seaside resort is the well-maintained and wide coastline. The entrance to the sea is gentle, which makes Rimini the most common destination chosen for vacations with children. Unfortunately, most of the beaches in this city are paid. While they do not differ from one another, you will find numerous facilities for tourists nearby. There are bars, restaurants, sunbeds with umbrellas, showers and also toilets. In addition, there are also volleyball or tennis courts.
Attractions
Italia in miniatura
It's a park, which features more than 270 miniatures of Italian and European monuments. This is an excellent attraction for both children and adults. The park was founded in 1970 by traveler Ivo Rambaldi. It has an area of 85,000 m². The park has been visited by nearly 30 million tourists since its establishment until today. Without a doubt, it is one of the most popular attractions in Rimini. In addition to exceptional miniature monuments, the park has about 10,000 plants, which gives the place a unique atmosphere. It is worth visiting Italia in miniatura especially with children, as you can combine learning with fun. When planning a visit to the park, it is worth knowing that tickets bought online are at a much better price than at the ticket offices. A full ticket bought online costs €19, while at the ticket office it costs €23. The price of a ticket for children between 100 and 140 cm tall bought online is €17, and at the ticket offices it costs €18. Admission is free for children up to 100 cm tall, as well as seniors over 65.
Malatestiano Temple
This is an unfinished cathedral church located in Rimini. It is dedicated to St. Francis, but the often-used name comes from Sigismondo Pandolfo Malatesta. It originally belonged to the Franciscans and is an example of Renaissance architecture. The most popular works that can be seen inside are Giotto's Crucifix, Piero della Francesca's frescoes and Agostino di Duccio's bas-reliefs. The church was damaged during World War II. However, it has undergone numerous renovations over the years. Admission to the church is free.
Augustus (Tiberius) Bridge
This is the oldest bridge in Rimini. It connects the historic center of Rimini with San Giuliano. The bridge began construction in 14 AD during the reign of Octavian Augustus, and was completed in 21 AD during the reign of Tiberius. The bridge connects the two banks of the Marecchia River. Importantly, the bridge is one of the best preserved monuments of its kind. It has survived numerous earthquakes and blow-up attempts. One of the tourist attractions is a guided cruise around the Augustus Bridge.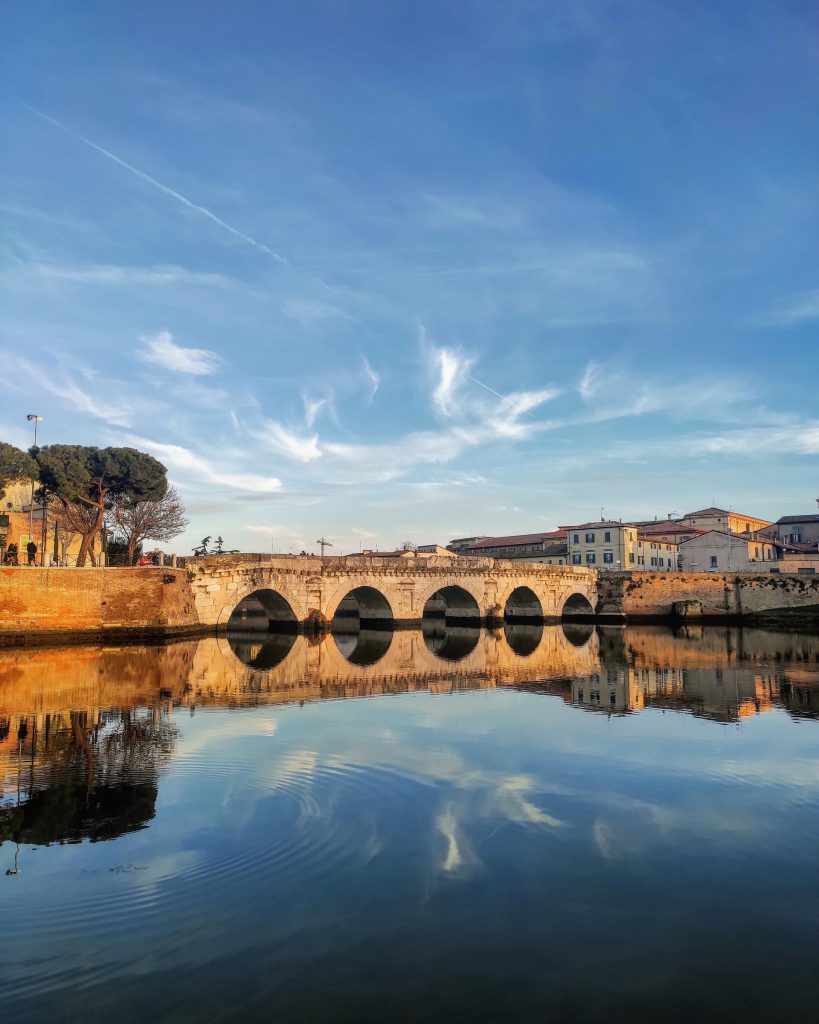 Fellini Museum
This is one of the most innovative museums in the world. It is dedicated to the Rimini-born director and screenwriter Federico Fellini. The museum is divided into 3 parts: Sismondo Castle, Palazzo del Fulgor and Piazza dei Sogni. In the first part you will find 16 rooms where you can observe the work and creativity of the said director. The museum's graphics and the entire visual identity were created by Studio FM in Milan. You can book a visit to the museum on the website www.fellinimuseum.it
What else to see and do while in Rimini?
If you like physical activity combined with relaxation, then Rimini is the perfect place for you. In addition to beautiful beaches, this resort offers bicycle paths of about 100 kilometers. Nearby you can find many rentals equipment. Such a facility is also offered by many hotels. One of the most popular paths is the route from Rimini to Riccione. The historic center of the city is also worth mentioning. Many people bypass this place, not knowing of its existence, but it is certainly worth a visit if you plan a trip to Rimini. Its part is the Piazza Cavour. In the middle of the square is the Fontana Della Pigna and the statue of Paul V. For nature lovers, the Parco Federico Fellini is also worth mentioning. This is a city park that is one of the most popular attractions. It was named in honor of Federico Fellini. The park features sculptures, a boardwalk, and playgrounds. The most popular attraction in the park is the Fontana dei Quattro cavalli. Also worth seeing is the Arch of Augustus. This is a Roman triumphal arch. It was commissioned by Octavian Augustus in 27 BC. It is decorated with a pediment on half columns with Corinthian capitals. Next to it are medallions with images of Jupiter, Neptune, Apollo and Roma.
Attractions for children
If you are going on vacation with children, we have great news. The area around Rimini is a veritable paradise for the little ones. While in this city, a must-visit is the Mirabilandia amusement park. Attractions in this place are divided according to height and age. There are numerous carousels, and the park is divided into zones according to the theme area. In addition to the attractions, you can take part in shows and animations. When going to Mirabilandia, it is worth knowing that buying tickets online pays off more than buying them at the ticket offices. An adult will pay €24.90 to buy a ticket online, while at the box office it will cost €37.90. The ticket price for a child up to 140 cm tall and a senior citizen (over 60 years old) is €24.90 (online) and €32.90 (at the box office). Free admission applies for children up to 100 cm tall. Another attraction near Rimini is the Acquario di Cattolica oceanarium. A visit there, will certainly be unforgettable especially for the youngest. There you can observe sharks, turtles or penguins. The price for a full ticket is €17.50 (online) and €22.00 (at the ticket offices). Discounted tickets are available for children from 100 to 140 cm tall. Their cost is €16.00 (online), and €17.00 (at the box office). Free admission applies to children up to 100 cm tall.
How to get to Rimini?
One way to get to Rimini is by plane. Ryanair airline offers direct flights from Krakow and Warsaw. Tickets can be found at very attractive prices, starting at 39 PLN. Wanting to get from the airport to the city center, you can take a cab, bus or rent a car. The airport is located 8 kilometers from the city center. Wanting to get to Rimini you can also use your own car. The route from Poland is about 1300 kilometers. Choosing such a way of travel, you can visit several other European cities by the way, for example, Brno, Vienna, Venice or Bologna. It also makes it easier to get to nearby or more distant places from the destination city of your vacation. When choosing this mode of transportation, you should be aware of the fees for highways, parking lots, and vignettes.
Kitchen
Italian cuisine is famous all over the world. Many people when visiting a region or city wonder what of the local dishes are worth trying. Today we will tell you what Rimini is famous for and what dishes you should not miss when visiting this city. The most popular snack is piadina romagna. It is nothing more than a thin scone (made from flour, salt, water and lard) with various toppings. It is most often served with PDO Squacquerone di Romagna cheese, or cured meats. Grilled seafood dishes are a popular dish in Rimini. Many people also choose handmade pasta with a variety of sauces (vegetable, meat or fish). Also worth mentioning is the popular dessert bustrengo. It was created as a way to use up leftover bread. The full list of ingredients is not available, but there are apples or figs. It is one of the traditional desserts of the region.
Weather
The warmest period in the city of Rimini are the months from June to September. The average daytime temperature then is over 20°C. This will be the ideal time for beach lovers to spend their vacation. This is also when the least amount of rainfall during the year is forecast. The coldest months are December, January and February. The average daytime temperature is around 7°C. The most rainfall can be expected in November and December.
Accommodation in Rimini
Prices for accommodation in Rimini depend on the location, as well as the amenities for guests. Looking through the offers of various facilities, you can find accommodations at very attractive and affordable prices. Such an example is the three-star Hotel Europa, located about a minute's walk from the beach. There is a terrace with a bar, as well as rooms with a balcony on the promenade in the Marina Centro district. The price for a two-night stay including continental breakfast is €36. Also worth mentioning is the Pan di Zenzero property. It is located near Viserbella Beach. The price for an overnight stay for two people including breakfast is €66. Another property worth mentioning is the Ascot Hotel & Spa. It features a wellness center, swimming pool, as well as a terrace. It is located right on the beach. The price for an overnight stay for two people including breakfast is €87.