Our recent stay in Sicily was very active in terms of sightseeing. There was little time, and the plans were ambitious. We have already visited Catania, Syracuse and Taormina, we were also in Modica where we spent 2 days. Our next destination was northeastern Sicily. After arriving in Castellammare del Golfo (this was our base camp) and visiting Trapani, it was the turn of Sicily's capital, Palermo.
Palermo is undoubtedly one of the most visited cities in Sicily, especially among tourists from Poland. First of all, it is a city of contrasts and diversity, so it arouses curiosity. In one place of Palermo we can see regional restaurants, monuments, and in others graffiti on buildings and the prevailing poverty. The second issue is cheap flights to this city. Ryanair flies to Palermo from Krakow and Wroclaw, and you can get tickets to these flights for less than PLN 100.
UNESCO-listed monuments, atmospheric alleys and streets, theaters, parks and local markets are just some of the attractions Palermo has to offer. If you're curious about what to visit and see in Palermo, feel free to check out our guide!
Attractions - what to see?
Palermo Cathedral (Cattedrale di Palermo)
Palermo Cathedral (dedicated to the Blessed Virgin Mary of the Assumption) is an iconic site and definitely the number one place to visit in Palermo. It was built at the request of Archbishop Gualtierro Offamilio. It is located on Corso Vittorio Emanuele street. Through numerous improvements and additions, the Cathedral's appearance has changed over the years.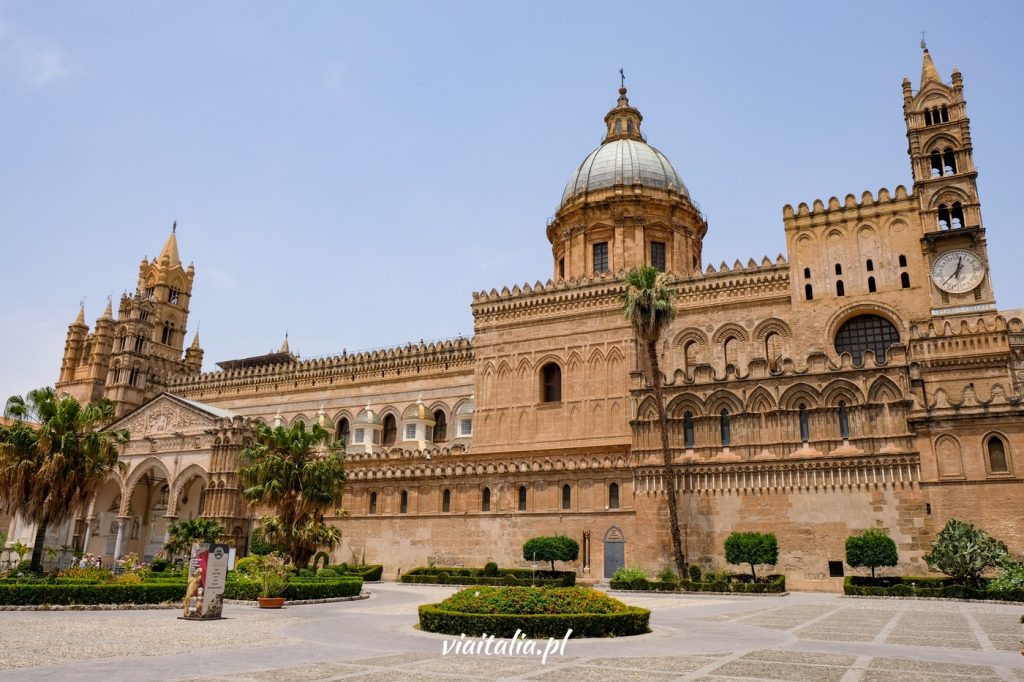 Entrance to the cathedral is free. However, there is a fee to visit the crypt and treasury (7€) and to enter the roof (5€). The treasury displays priests' robes, jewelry and also the crown of Constance of Aragon, while the crypt is the burial place of important citizens. Once on the roof, tourists can admire the cityscape and the Cathedral Square. The view is amazing, which is why this attraction is so popular with tourists. It is worth visiting this place, not only for the magnificent views, but also for the wealth of architectural styles used after numerous reconstructions. Here we have a mix of Baroque, Gothic and Renaissance styles. We can buy online here.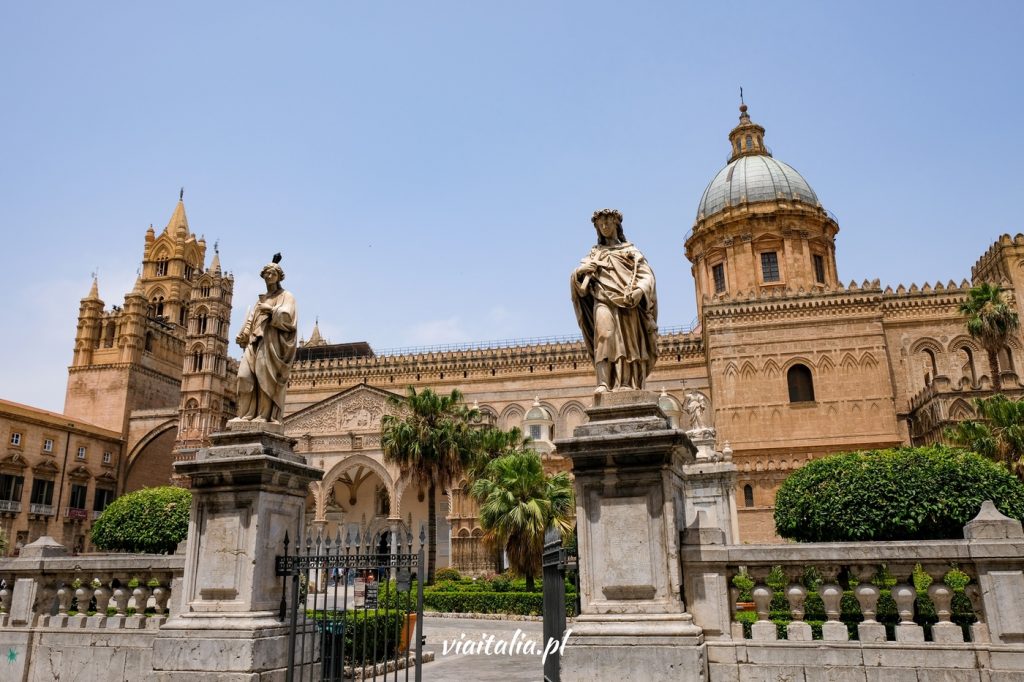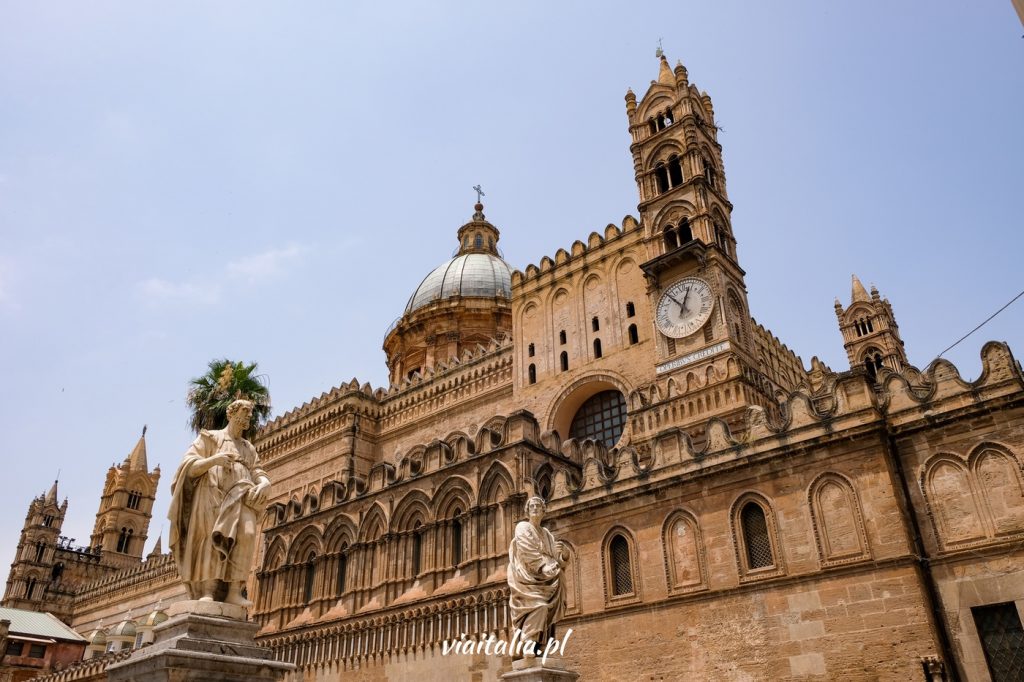 Piazza Quattro Canti
This is the most recognizable square in Palermo, which was built in the early 17th century. It connects the city's four historic districts (Albergheria, Seralcadio, La Loggia and Kalsa). Its shape resembles an octagon, with four sides being streets and the remaining sides being Baroque-style buildings. The four buildings are divided into three sections with a concave facade. Each building, on its lowest segment, has a sculpture, which is one of the specified seasons. The middle section features figures of the four kings of Sicily (Charles V, Philip I, Philip II, Philip III). On the highest section of the building, one can see sculptures of the four patron saints of Palermo (Cristina, Ninfa, Oliva, Agatha).
Quattro Canti Square is one of the most popular attractions in Palermo. It lies just 500 meters from the Cathedral, about a 5-minute walk. It is definitely worth a visit when visiting the city.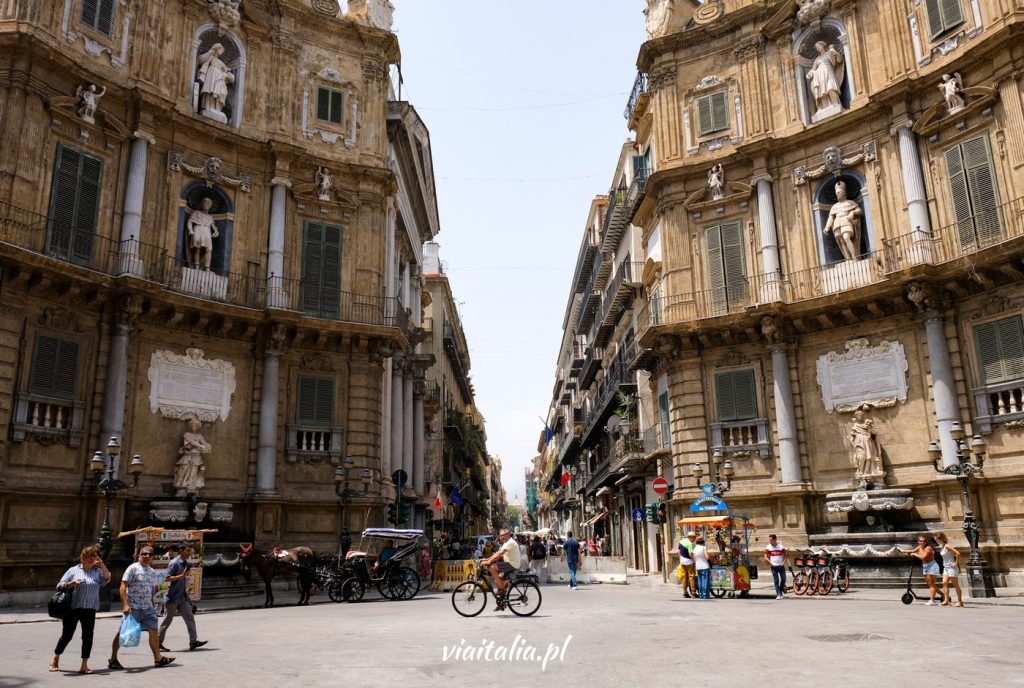 Pretoria Fountain (Pretoria Fountain)
If you're in the Quattro Canti square, don't miss the next big attraction in Palermo. The Fontana Pretoria, as it is referred to, is located literally next to the Quattro Canti, in Pretoria Square. The history of this fountain is quite interesting. It was originally built in 1544 in Florence, but 30 years later it was sold and reassembled right in Palermo.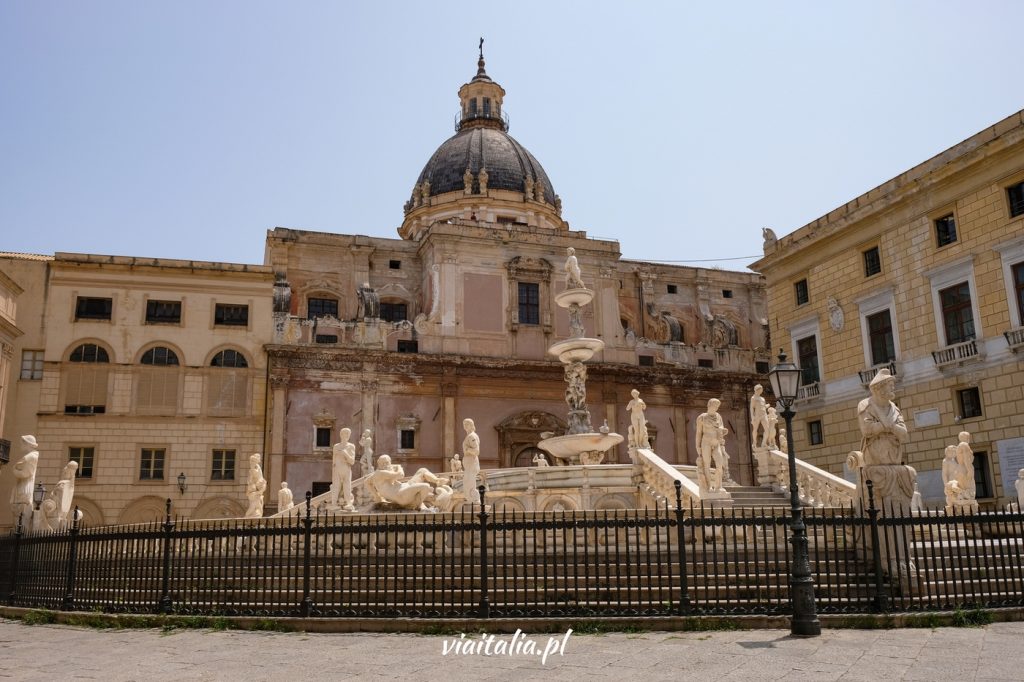 The theme of the fountain is mythology. It features, among other things, the 12 Olympian Gods and other figures appearing in just mythology. Interestingly, another name for the fountain, given by the locals themselves, is the Fountain of Shame - probably by the naked figures that adorn the fountain.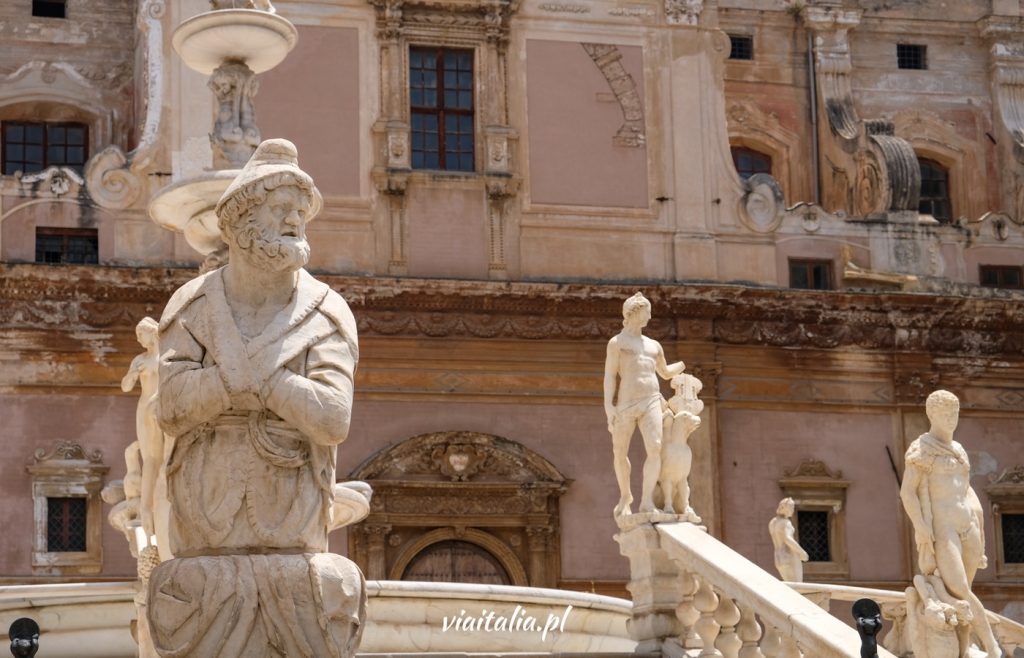 La Vucciria Market
This market is an iconic place and one could say the capital of Sicilian street food. La Vucciria used to be an ordinary market like many. Today, it is a place not to be missed while in Palermo.
The main attraction of the market is precisely street food, or Sicilian street food. Here we can buy all the specialties of the island, including caponata, arancini, seafood. The portions are not huge, so you can try many things. We will also get fresh fish here and frutti di mare.
In the evening the real night life begins here. It is worth visiting this place also after dusk, as it shows its second face 🙂 .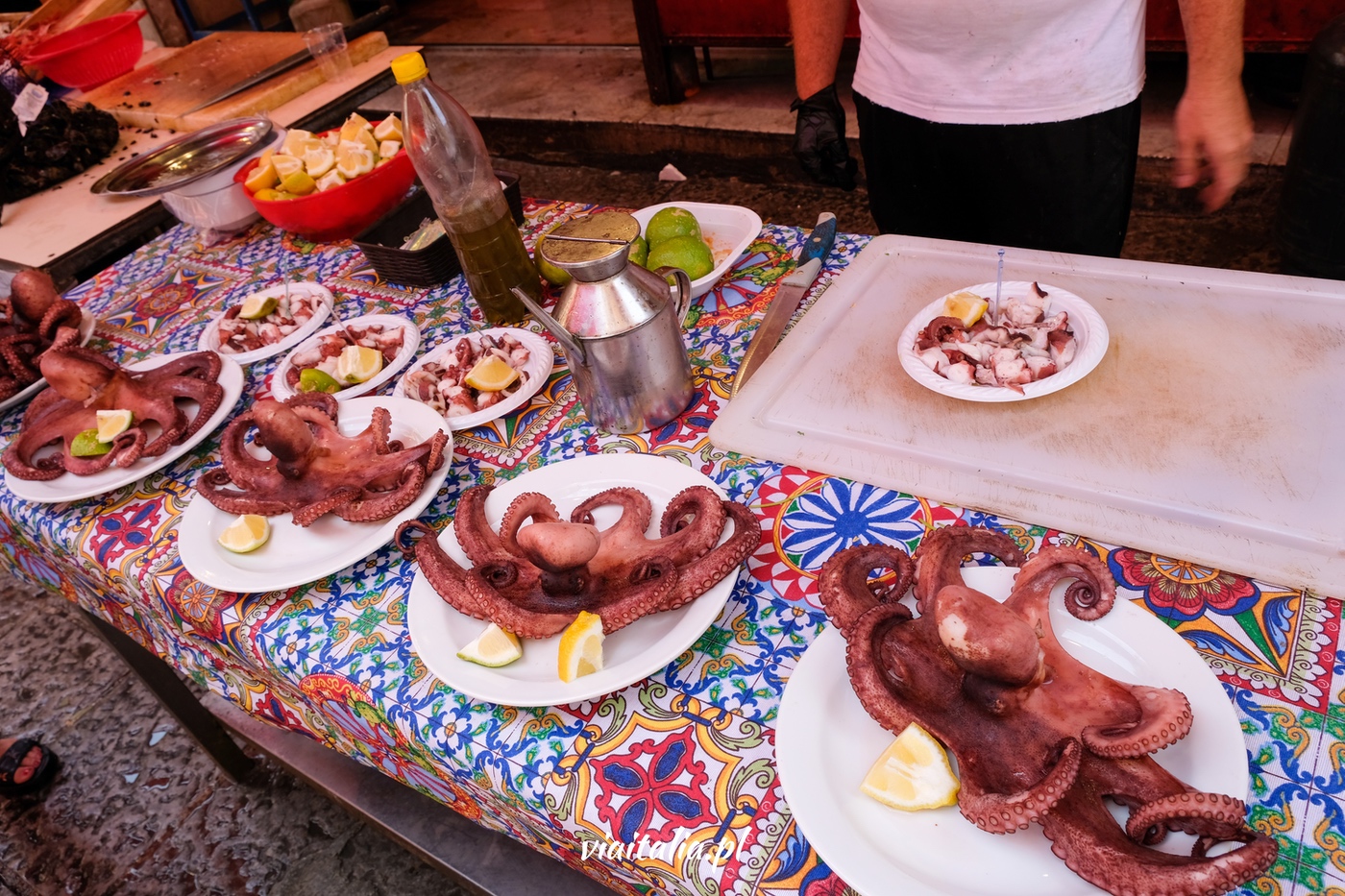 Teatro Massimo
It is the largest opera theater in Italy. The theater building is a kind of link between the old and the new city. The Teatro Massimo stages opera plays for children and adults, ballet, and organizes concerts there.
It is also possible to tour the theater. It is open to visitors daily, from 9:30 am to 5:30 pm, with the last entrance at 5 pm.
Tickets for performances can be purchased at the ticket office in the theater building or online here. Prices vary, of course, depending on the type of performance.
Church of Santa Maria dell'Ammiraglio
Near the Praetorian Fountain is one of Palermo's many historic churches. It is worth going there, as its interior is impressive. The name of the church means "Our Lady of the Admiralty" - referring to the founder of the temple. He is George of Antioch - the admiral of Roger II (King of Sicily). With the passage of time, the building was expanded, and a bell tower was added, among other things. Over the years, the church was also separated from the city by walls. The interior was remodeled and the Baroque style dominates. A large part of the rooms are Byzantine-style mosaics that show, among other things, scenes of the Annunciation, as well as the crowning of Roger II by Christ and George of Antioch worshipping the Mother of God. It is a church that was declared a UNESCO World Heritage Site in 2015, along with the cathedrals of Monreale and Cefalù, as well as Zisa Castle, the Church of San Giovanni degli Eremiti, San Cataldo and the Ponte dell'Ammiraglio bridge. The Norman Palace with the Palatine Chapel also appeared on the list. The Church of Santa Maria dell'Ammiraglio is located in Piazza Bellini and is often visited by tourists.
Botanical Garden
This place will certainly be ideal for fans of exotic vegetation. Lush nature, a place to relax from the hustle and bustle of the city - this is something that characterizes the Orto Botanico di Palermo. It is one of the oldest botanical gardens in all of Europe. About 12,000 species of plants can be seen there. Palm trees, ficus trees, banana trees are just some of the ones we can find there. The most impressive specimen is the big-leaf fig tree, which was brought all the way from Australia. What is the history of the place? Initially, the garden was established to grow medicinal herbs. Over time, decisions were made to establish a modern facility, which now also serves as a research facility of the University of Palermo. A ticket to the Orto Botanico di Palermo costs €5, while it costs €3 with a school ID card. This also applies to a doctoral or ISIC card. The garden is adjacent to the Villa Giulia park, which has numerous sculptures and a fountain. The Palermo Botanical Garden is the perfect place to take a stroll among exotic vegetation, which is sure to be memorable for a long time.
Catacombs of the Capuchins
A place that causes a lot of controversy, but is certainly unique. It is the catacombs, which are located under the Capuchin monastery. There you can see the best-preserved remains of clergy and laity. Some 8,000 mummies are displayed there. They are clothed, classified according to gender, as well as social position. They can be seen in various positions - lying down, hanging on the walls or standing. The youngest of them is Rosalia Lombardo, who died at the age of 2. The girl's body was embalmed and buried in the crypt. Tourists visiting the site, noticed strange phenomena related to the girl's burial. This is because they noticed that she was moving her eyes and blinking. Also, monks, staying at the place, noticed that there was a smell of flowers around the coffin. Many people visiting the place noticed that something that resembled tears appeared on the girl's face. There are many theories about this phenomenon. A few claim that it is a rumor to promote the place. Scientists who have been looking into the matter believe that the angle of the light is a major contributor, while as time has passed, an even bigger mystery has emerged. Indeed, x-rays of Rosalia's deceased body are no different from x-rays of children her age. The internal organs are in very good condition, as is the skin. So what is the truth about the "Sleeping Beauty of Palermo"?
Ballarò and Mercato di Capo
Pozna the most popular and well-known market La Vucciria in Palermo you will find others, equally interesting.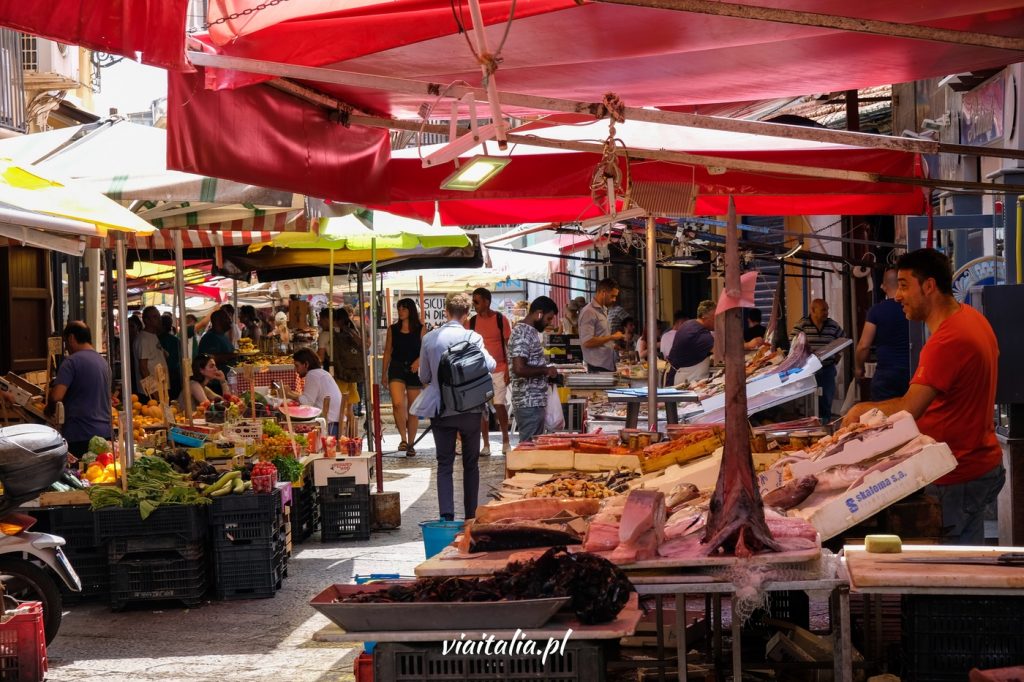 Ballarò, is the oldest market in Palermo and is located in the Albergheria neighborhood. The hustle and bustle, the smells of local products wafting through the air, is something that certainly gives a unique atmosphere and vibe to the place. You can buy fresh fish, meat as well as fruits and even herbs.The market also features street food, where you can enjoy ready-made local specialties.
Mercato di Capo is another market with local products, located on Via Volturno. As with La Vucciria and Ballarò markets, you can buy fresh fish, seafood, street food and fresh juices here - perfect for the Sicilian heat.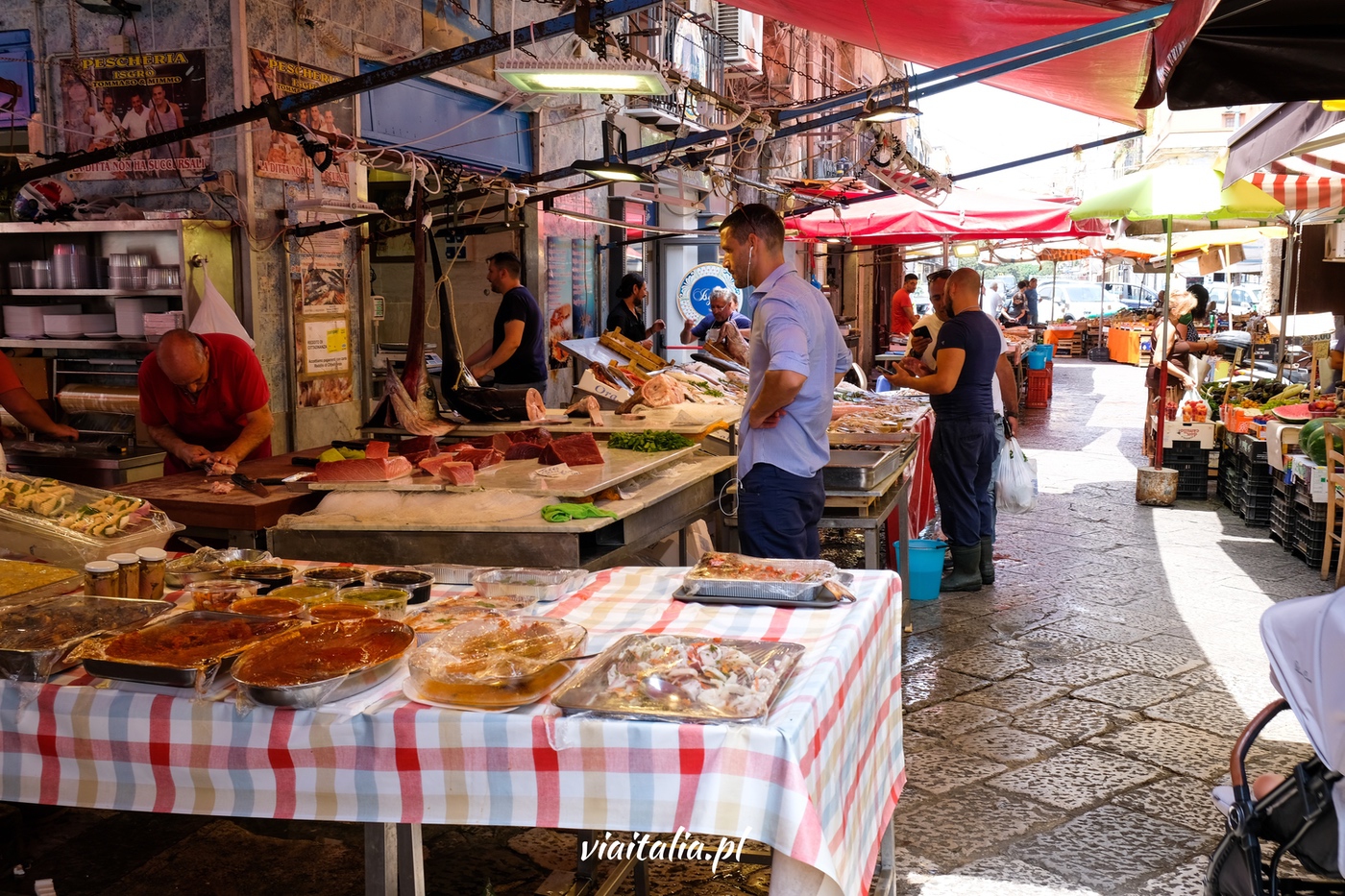 Beaches
Mondello beach
The most popular beach in Palermo, or rather nearby, is Mondello. It is at the same time one of the most popular beaches in Sicily. It is located about 15 kilometers from the center of Palermo and is very easy to get to by public transportation or car. The beautiful beach with turquoise-colored sea is a real refuge. During the summer season it is besieged by tourists who take real pleasure in sunbathing. It will also be a paradise for active people who like to practice various sports. During the holiday season, it is also possible to rent water equipment, which is a great convenience for tourists.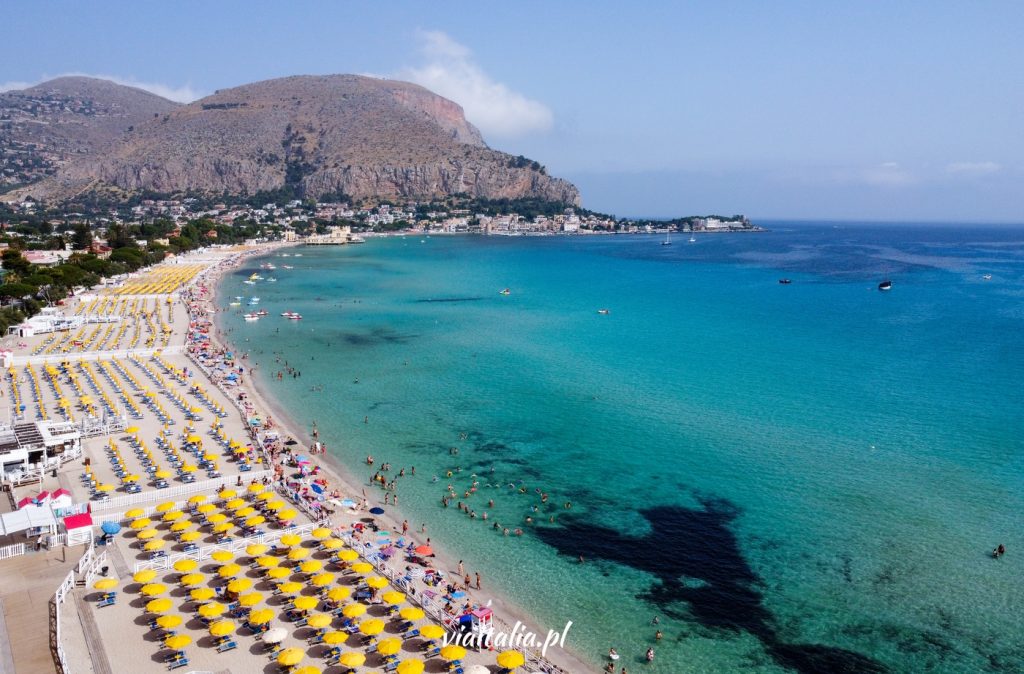 At the beach itself there are restaurants and bars, as well as a pier. Not far from the beach is the Capo Gallo Nature Reserve. A place with beautiful views that is definitely a must visit. Mondello beach is very popular with both tourists and Palermo residents themselves, so it's best to go very early in the summer season. Without a doubt, this is the perfect place to beach and enjoy the Sicilian sun to the fullest.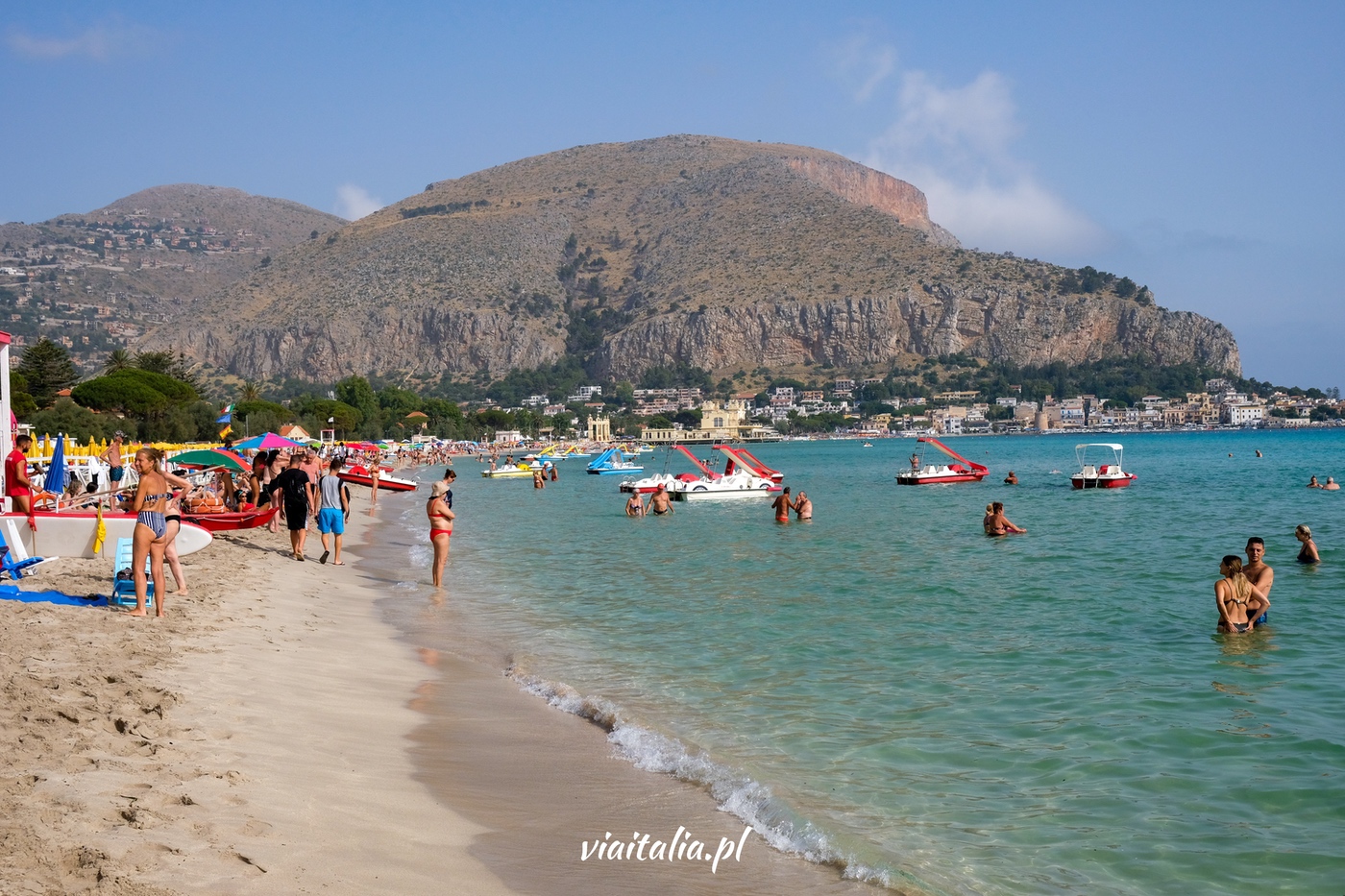 Spiaggia Gorgo
This beach is the place to be, for those who appreciate peace and quiet and do not like excessive crowding. It is about 60 kilometers away from Palermo in the direction of the Cefalu. The easiest way to reach it is by car, but public transportation is also available. The beach is located in the area of the Gorgo Lungo settlement. It is a typical smaller beach with its characteristic atmosphere. Great attention is paid to cleanliness there. On the beach there are deck chairs and umbrellas at the disposal of tourists. It is an ideal place for those who like to relax in small resorts.
Access
We can get to Palermo in two ways. By flying by plane or arriving by ferry.
Plane
Most tourists visiting Palermo obviously choose to travel by plane. We can get here by Ryanair airlines from two Polish cities: Krakow and Wroclaw. Tickets are worth buying in advance, as you can often get them at promotional prices, even below 100 PLN! You can also fly to Trapania, which is located about 1.5h away (by car) from Palermo. We chose another option - a flight from Catania And getting to northeastern Sicily by rental car.
Car and ferry
If you are planning a longer vacations in Sicily, it's worth considering the option of getting there by your own car+prom. Ferries to Palermo depart from Naples, Cagliari, Genoa, Livorno As well as Milazzo and Salerno. The example price of a ferry ticket from Naples to Palermo for two people including a passenger car is about 600 zloty one way. It is worth buying ferry tickets in advance, as they will be cheaper.
Undoubtedly, each of these options has its pros and cons. Flying by plane guarantees us a faster and cheaper trip, while if you take this route by car, you can stop anywhere and visit, for example, Brno, Vienna or other corners of Italy such as Padua, Bologna, Florence, as well as Rome.
Public transportation
Upon arrival in Palermo, wishing to get to the city center you can use public transportation. It is possible to get there by train, or by airport bus. Many people, however, prefer to rent a car or take a cab.
Traveling around Palermo itself is not a problem. The city is very well connected. Wanting to travel around the city the best option is the bus, or streetcar (ticket price - €1,40), while for further routes, it is more recommended to travel by rail.
Weather
Sicily's capital is ideal for sightseeing and relaxation. Winters here are very mild, while summers are long and warm, which is characteristic of the Mediterranean climate.
The most favorable months to travel and visit Palermo are from May through October. The warmest months are July and August, where daytime temperatures reach around 29°C. In winter, the temperature drops, while the daytime temperature fluctuates around 15°C.
Food and cuisine
There is a reason why Italian cuisine is world-renowned and considered among the best. Sicily and Palermo are no exception. We wrote a separate article about what to eat while in Sicily.
Palermo has no shortage of places to eat delicious seafood, pasta, fish and other specialties of Sicilian cuisine - whether in local restaurants or street markets.
Palermo is the capital not only of Sicily itself, but also of Sicilian street food, or street food. At the markets we will taste the specialties of local cuisine. Arancini, caponata, octopus or other seafood are just a few.
Accommodation
Prices for accommodation in Palermo, as in any city, depend on the location and period of booking. In Palermo there is a large range of hotels and apartments in different standards. When it comes to accommodation in Palermo, we can't advise anything specific, as we decided to stay just in Cefalù. However, we have a plan in the coming autumn to visit Palermo itself again, then we will try to update all the information about accommodation.
If you don't have accommodation yet, check out the deals on bookings below: