Catania is the second largest city in Sicily. It is located at the foot of Mount Etna, the largest volcano in Europe, which is still active, and visiting it is one of Catania's biggest attractions. Catania is highly controversial because in many parts of the city the buildings are neglected and shabby, and on the outskirts one can see the prevailing poverty. Added to this is the ubiquitous garbage, found even in the very center of the city. Catania's climate is very similar to Naples. The city is certainly peculiar. But despite this, Catania is a very popular destination among tourists, including those from Poland. We can get here by cheap airlines for as little as a few dozen zlotys. Ryanair and Wizzair airlines offer cheap flights to Catania from Katowice, Krakow and Warsaw airports. We spent less than 3 days in Catania (including sightseeing on Mount Etna) and I consider this time sufficient. Catania is an excellent destination for a weekend city break.
History of Catania
Catania was probably founded in the 8th century BC as a Greek colony. At first it developed intensively, but after the fall of the Roman Empire the city was captured by Arab forces. Eventually, however, it was captured by the armies of the Holy Roman Empire, and then Frederick II of Sicily took power. From then on, Catania began to grow again, and by 1445 there was a local university. Unfortunately, in the 17th century, part of the city was destroyed by the eruption of the Etna volcano and later by an earthquake. It is considered that these events changed the city. As a result, it was possible to redesign it from scratch. It was then that a style called Sicilian Baroque was created, which is clearly visible in Catania.
Attractions - what to see and do in Catania?
Most of the attractions in Catania itself are located quite close to each other. We can easily explore the city on foot, and if necessary we can use public transportation - bus and metro. We started our tour of Catania from the main point of the city - Piazza del Duomo.
Piazza del Duomo - cathedral square
Piazza del Duomo is the main square in Catania located at the intersection of via Giuseppe Garibaldi and via Etnea. Originally built in the 11th century, it was destroyed by a tragic earthquake in 1693. The famous Sicilian architect Giovanni Battista Vaccarini was responsible for rebuilding the square a few years later. It is to him that we owe the current appearance of the Piazza del Duomo.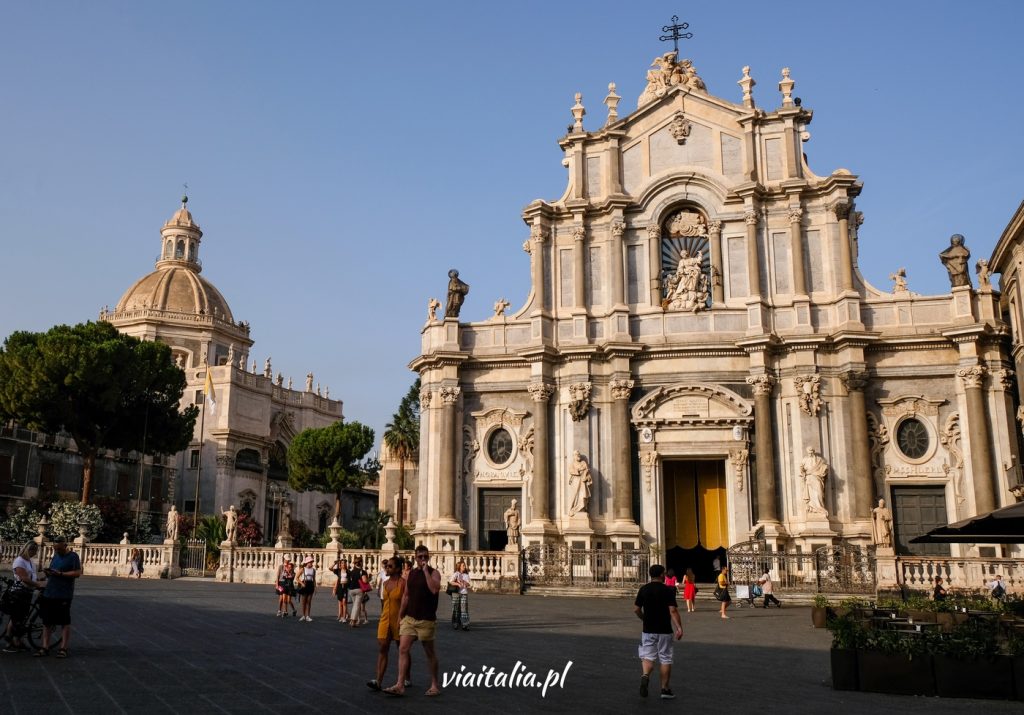 Fontana dell'Elefante
In the central part of the cathedral square is the famous Fontana dell'Elefante, a fountain with an elephant carved in basalt, which is also the symbol of the city of Catania. The fountain was built in 1736 and was designed by the aforementioned architect Giovanni Battista Vaccarini.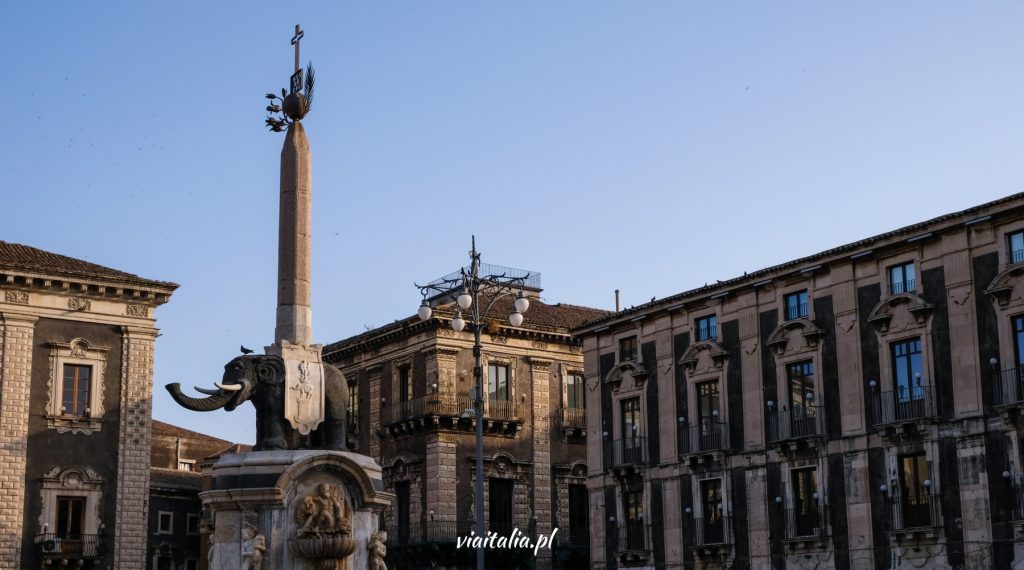 Basilica of St. Agatha (Basilica Cattedrale di Sant'Agata)
One of the biggest attractions in Catania, which is also located in Piazza del Duomo, is the Basilica of St. Agatha. It is perhaps the most distinctive building in the cathedral square. Originally built between 1078 and 1093, the basilica was destroyed by repeated earthquakes, but was eventually rebuilt in the 17th century. The cathedral's facade is three-tiered and decorated by numerous columns and sculptures. It was made of white marble. The doors of the cathedral depict the figure of St. Agatha. They show scenes from the life and martyrdom of the patroness of Catania. The cathedral has a Latin cross plan. It consists of a nave and two side aisles. The cathedral houses a statue of Vincenzo Bellini, as well as numerous tombs of members of the Norman, Swabian and Antagonian royal families. It is one of the most popular attractions in all of Catania. You can enter it for free.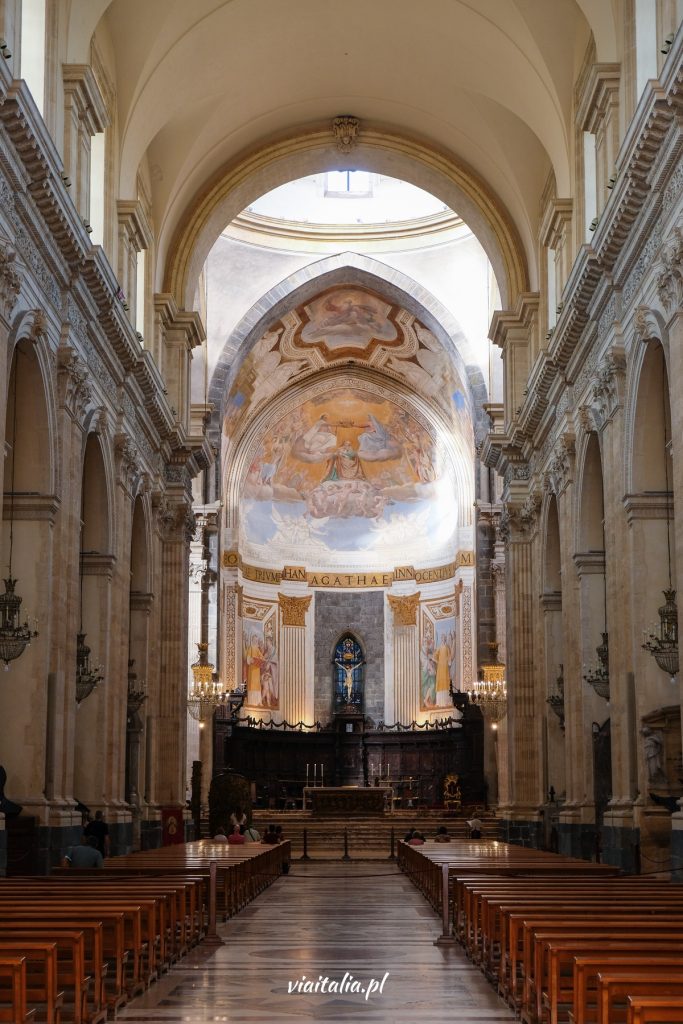 Fontana dell'Amenano
In the cathedral square you'll also find another fountain, which is also the entrance to Catania's famous La Pescheria fish market. The Fountain dell'Amenano was built in 1867 by the famous sculptor Tito Angelini.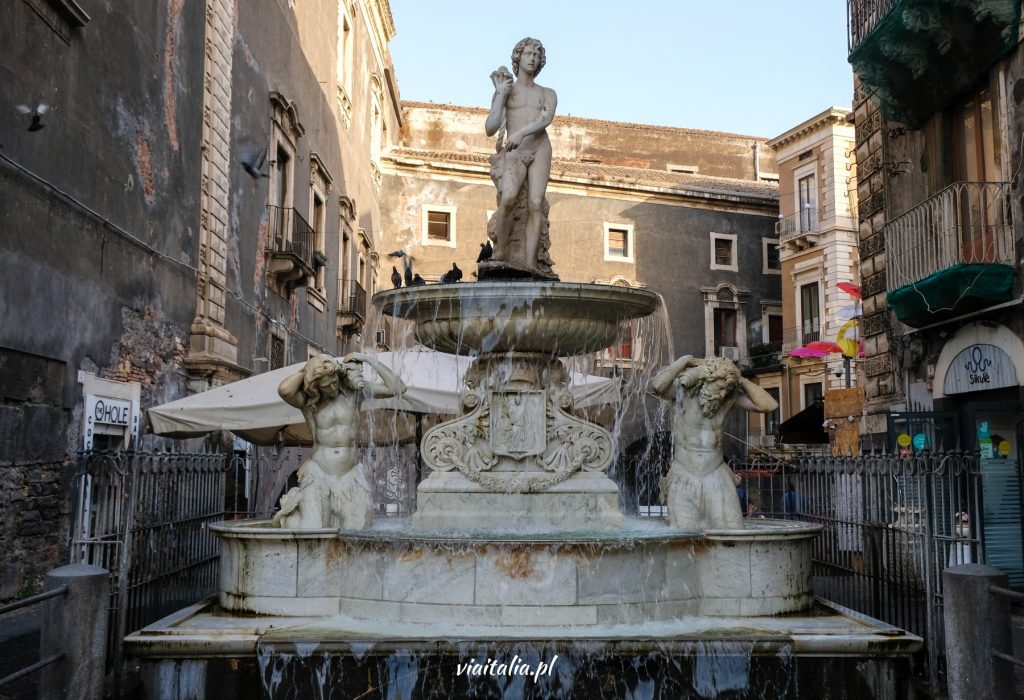 La Pescheria fish market
An undoubted attraction of Catania is La Pescheria, or the fish market. Here you can buy fresh fish and seafood, so typical of Sicilian cuisine. The market is located near the Piazza del Duomo, just behind the aforementioned fountain dell'Amenano. It is a unique place. There is an omnipresent bustle and harmony, and the peculiar smell remains long after the trading is over. La Pescheria fish market operates from 7 am until early afternoon. The best time to go there is first thing in the morning, when trading is just beginning.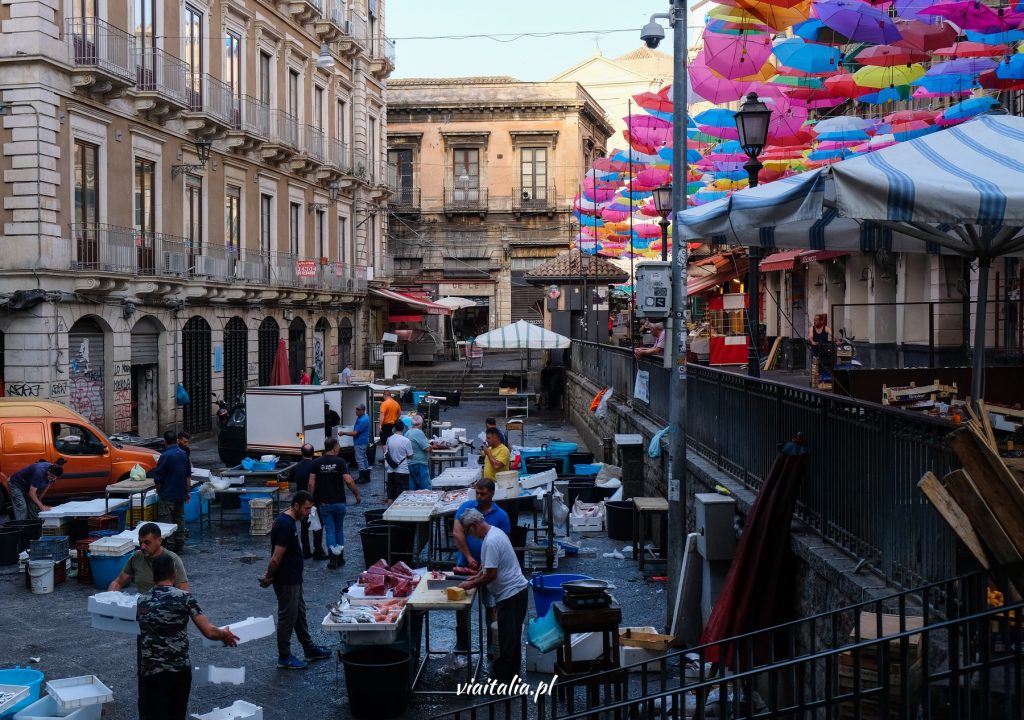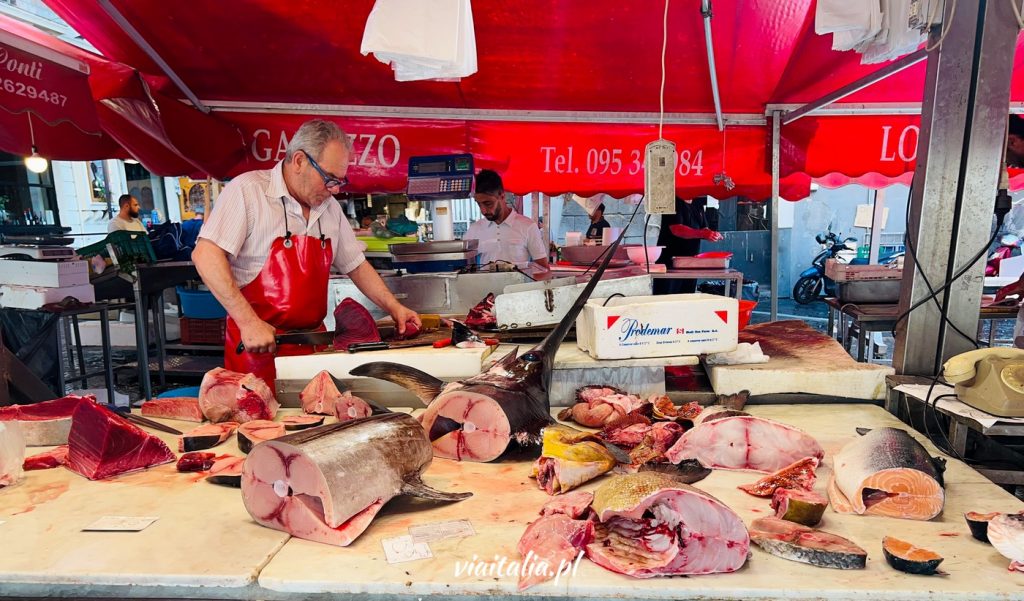 Best viewpoint: Chiesa della Badia di Sant'Agata
Another of Sicily's Baroque symbols is the Church della Badia di Sant'Agata, located near the Piazza del Duomo. It was also designed by Giovanni Battista Vaccarini after the church that stood here was destroyed in an earthquake in 1693. The attraction is both the building and the observation deck on the dome, which offers a unique panoramic view of Catania and Mount Etna. If you have the opportunity, go there, preferably as soon as it opens! It is the only such vantage point in Catania.
The entrance ticket to the dome is only 5€. We can enter every day before noon from 9:30 a.m. to 12:30 p.m. and in the afternoon from 4:30 p.m. to 7:30 p.m. The exception is Sunday, where afternoon entry is possible from 5 p.m. to 8 p.m.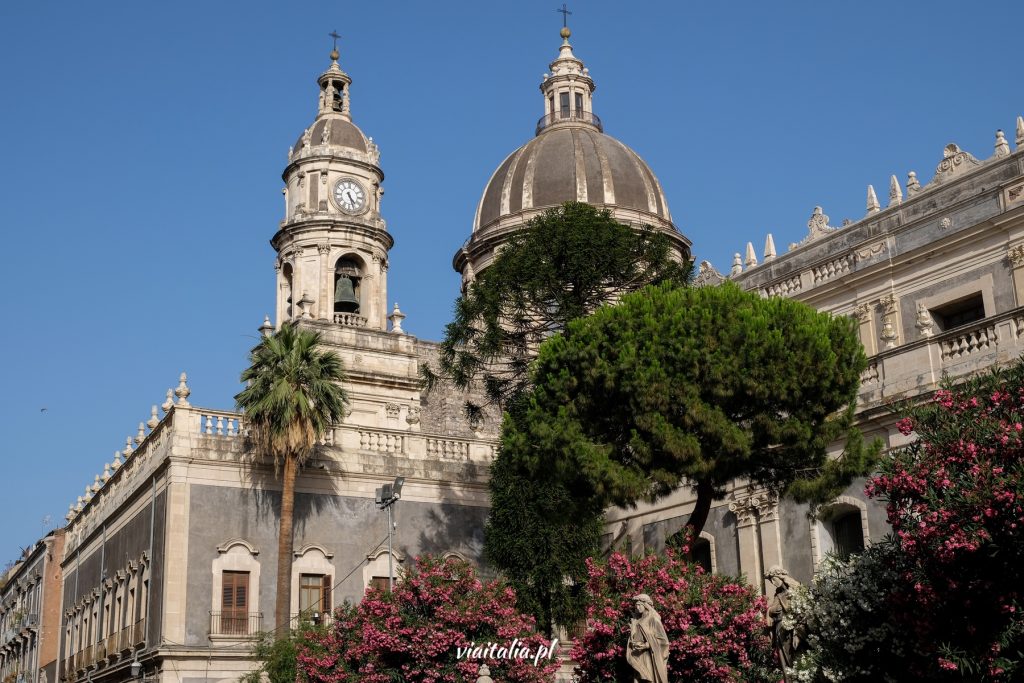 Piazza Università
Near the Piazza del Duomo is another representative square, the Piazza Università. This place is also home to the ubiquitous Sicilian Baroque. Next to the square is the university building. While in this place, pay attention to the 4 characteristic lanterns on the corners of the square. Their shafts are 4 statues from folk tales of Catania. The square is lined with lava stone, and the city's coat of arms is displayed in the center. During the summer season, the square becomes the center of Catania's nightlife.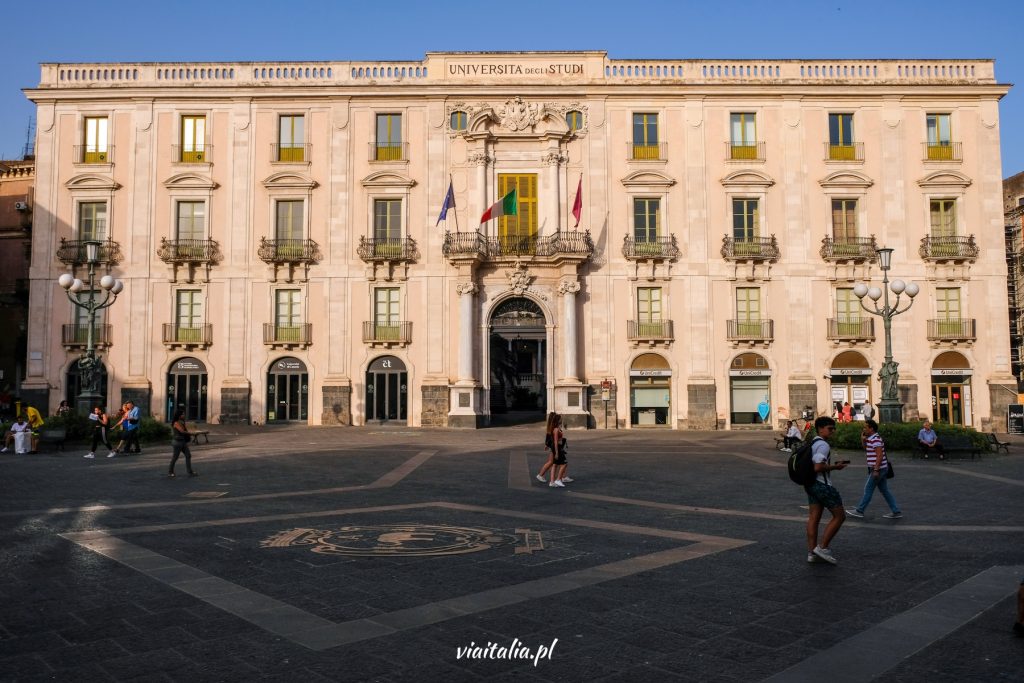 Basilica della Collegiata
Walking further, we come upon a beautiful basilica that was built in the early Middle Ages. It is another example of Sicilian Baroque. It was designed by Angelo Italia. Initially, like most monuments in the city, it was destroyed by an earthquake that occurred in 1693, after which the orientation of the building was changed so that it faces the street. Inside the basilica there is one main nave, and two side aisles. They are divided by pilasters and apses. There are also frescoes created by Giuseppe Sciuti. They depict scenes from the life of Mary, angels and saints.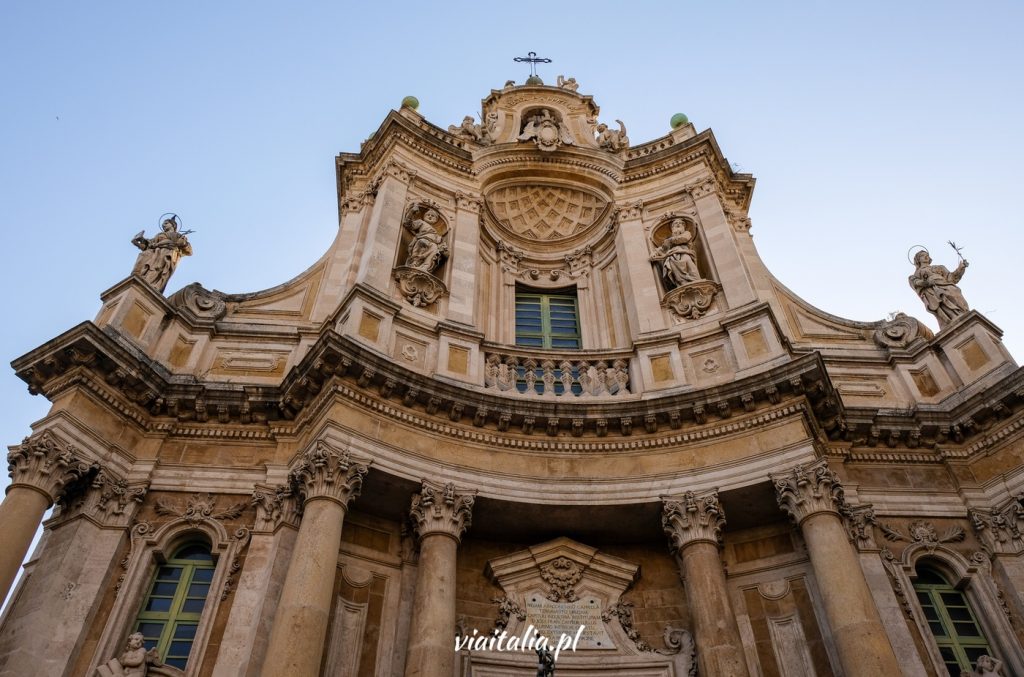 Via Etnea
The described Piazza Università and Basilica della Collegiata are located on one of Catania's most important streets - via Etnea. The street stretches for more than 3 km, there are numerous pubs, restaurants and stores along it. On top of that, there is a wonderful view of Etna. A perfect place for a walk! We, tired of sightseeing so far and the prevailing heat in June, recuperated by drinking delicious freshly squeezed juice just on Via Etnea!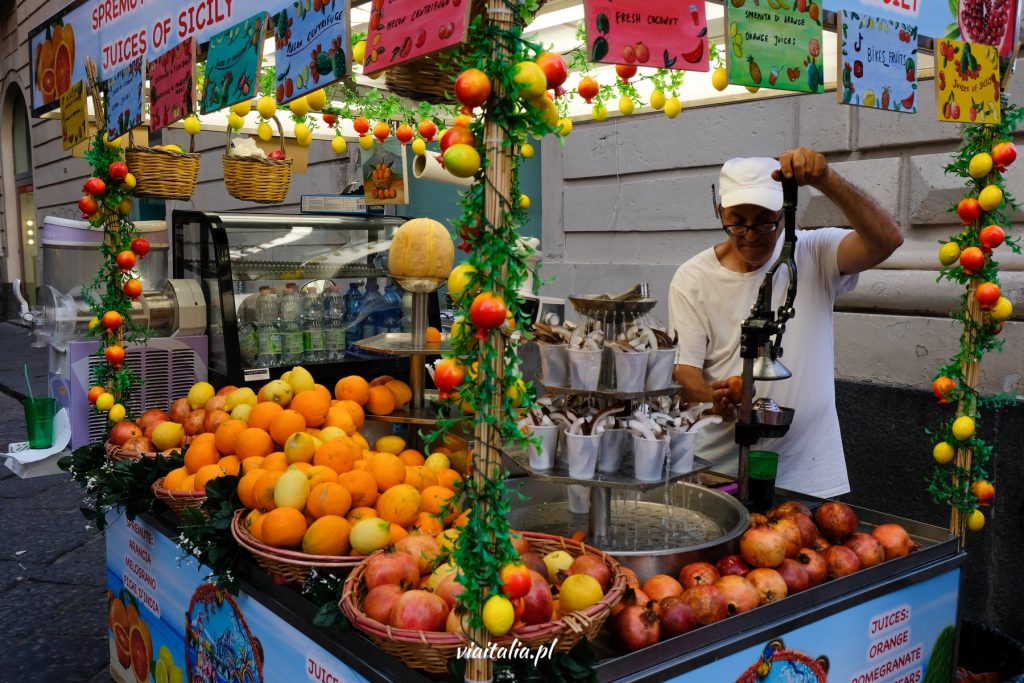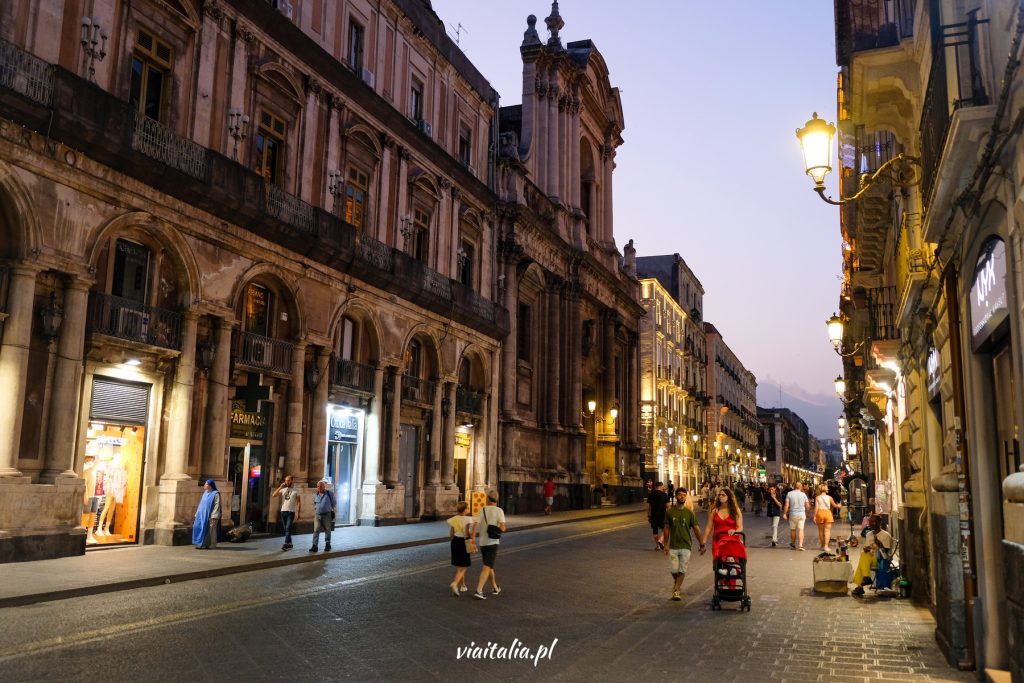 Ruins Roman amphitheaterego
Continuing along via Etnea, we come to the ruins of the Roman amphitheater located in Piazza Stesicoro. This amphitheater was built in the 2nd century and once could accommodate nearly 15,000 spectators. Today we can admire the remains, which are located in the historic center of Catania. They are only fragments, and some of them are located under the historic streets of the city. It is worth mentioning that during World War II it served as a shelter. Entrance to the amphitheater and sightseeing is free. It is an ideal place to visit not only for history lovers.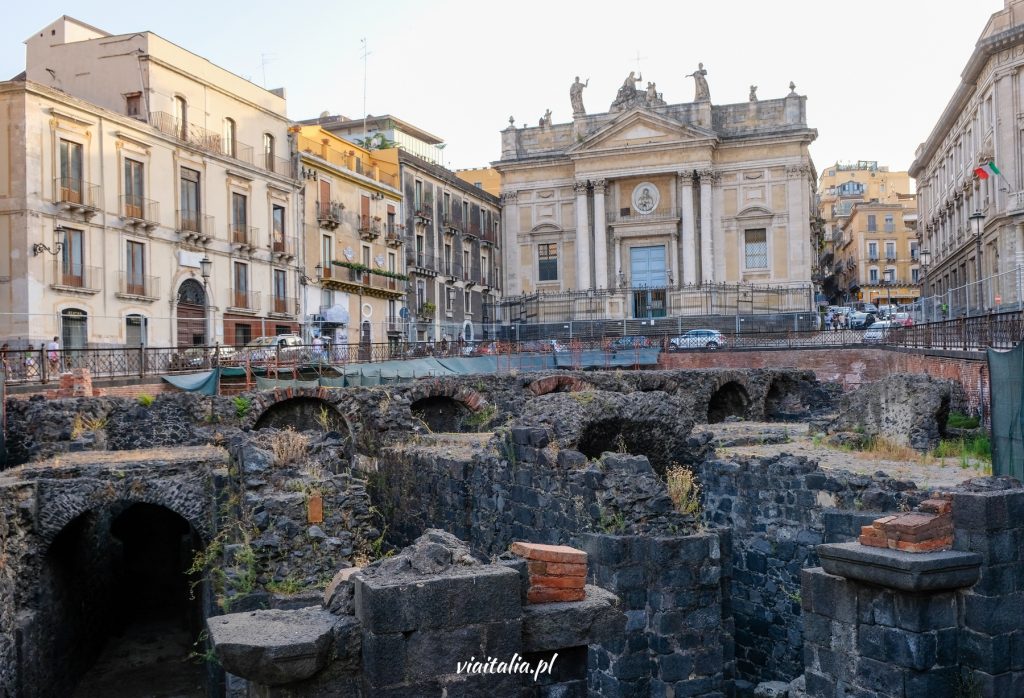 Bellini Gardens
Continuing the walk along via Etnea street you will reach the green heart of the city. This is the Bellini Gardens. A perfect place to relax from the hustle and bustle of the city and admire the exotic plants and sculptures.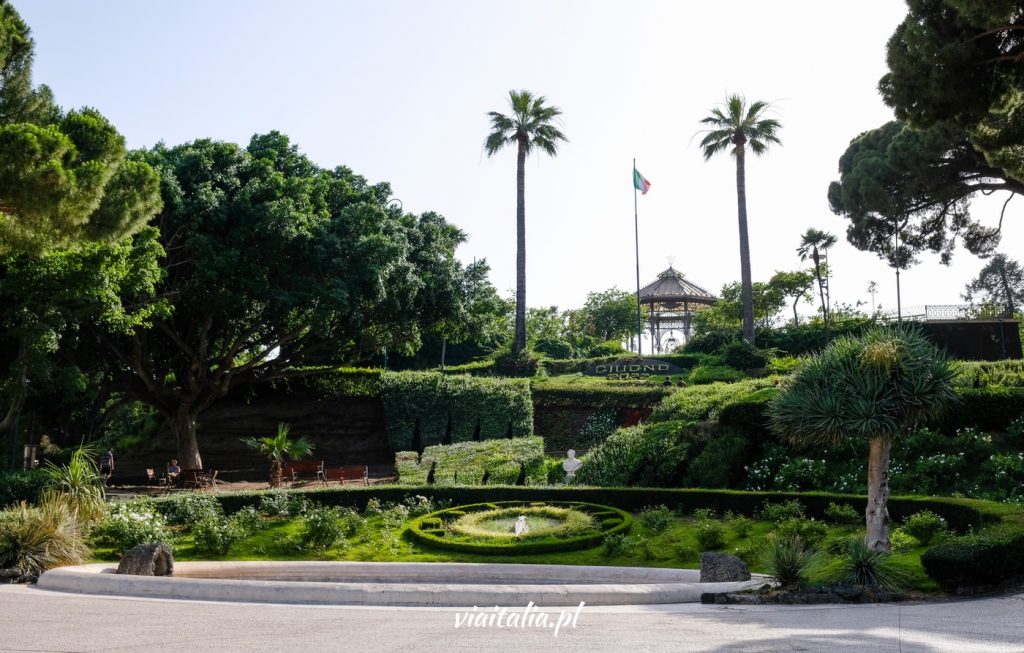 What else to see while in Catania?
Castello Ursino
In another part of the city, about 500m from the Piazza del Duomo where we began our tour is Castello Ursino, a castle built between 1239 and 1250, built on the orders of King Frederick II of Sicily. It once served as a royal residence and later as a prison. Importantly, it was one of the few monuments to survive the 1693 earthquake. However, as a result of this event and the eruption of the Etna volcano, the castle changed its location. It was originally located on a cliff, right next to the sea. However, as a result of these events, it is now located one kilometer inland. It has served as an art museum since 1934 until today. It houses numerous artifacts, paintings and sculptures. Among them: a lion-skinned statue of Hercules or a fragment of a frieze depicting Apollo and Artemis.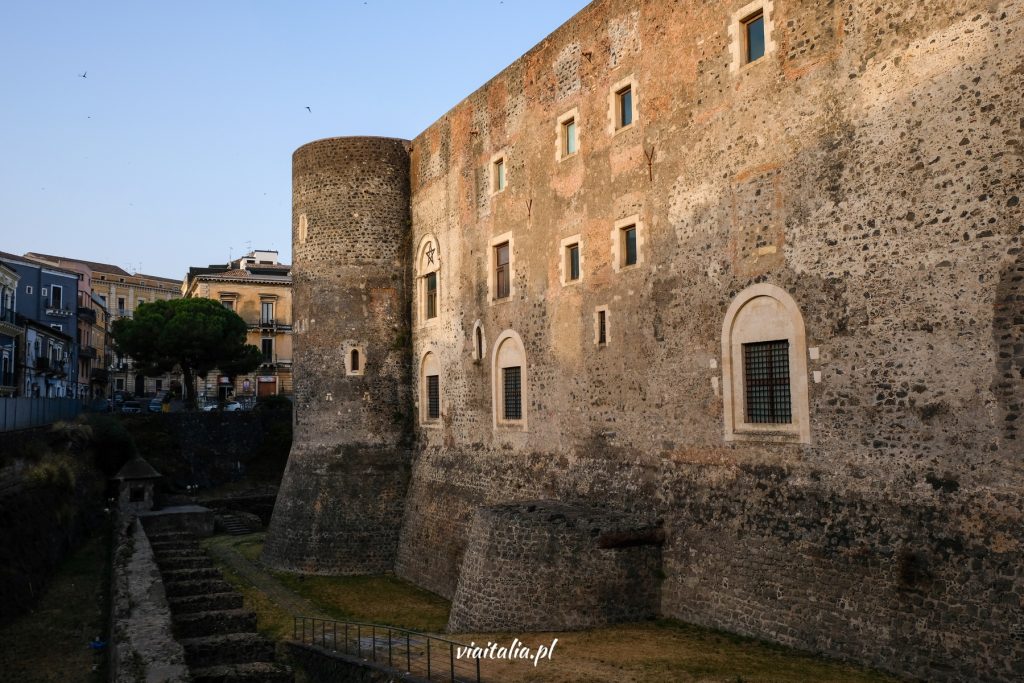 Palazzo Biscari
This is the most beautiful private palace in Catania, whose construction was completed in 1763. The interior is characterized by splendor and is richly decorated. There are numerous frescoes painted by Matteo Desiderato and Sebastiano Lo Monaco. Today, the palace hosts concerts, exhibitions, fashion shows and even weddings. Wanting to visit Palazzo Biscari, it is best to take advantage of the organized guided tours.
Excursion to Mount Etna
Etna volcano is undoubtedly one of the most popular attractions in this city, as well as in Sicily itself. We wrote about the trip to Mount Etna in detail in our separate article, which you can find here.
Etna is Europe's largest active volcano, which was designated a UNESCO World Heritage Site in 2012. A person should devote a day to visiting Etna. We did just that and did not return to Catania until the evening, around 6 pm.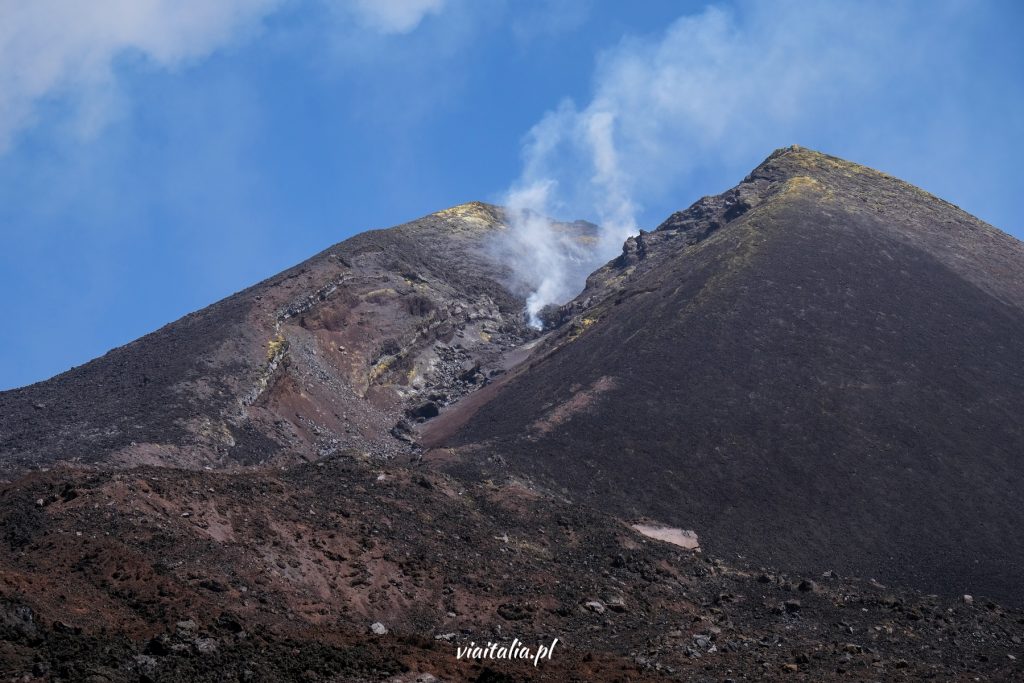 Trip to Taormina
While in Catania, a trip to Taormina is also worthwhile. It is a town about 55 kilometers from Catania. It is primarily famous for the Greek Theater, which was carved into the rock and later rebuilt by the Romans. It is one of the most beautiful monuments in the area. The easiest way to get there is by train. The trip will take us more than an hour. We got there by rented car.
Feast of St. Agatha - patron saint of Catania
Also worth mentioning is the patron saint of the city of Catania, namely St. Agatha. Her feast is celebrated every year on February 5, which is considered one of the most interesting events in the city. When planning a trip to Catania, it is worth considering the date of this celebration and participating in it. It will certainly be an amazing experience. Now a few words about the patroness herself. Saint Agatha was born around the 3rd century. She came from a wealthy family and from childhood felt a strong need to serve Christ. With her beauty she attracted the attention of the governor of Sicily, who proposed marriage to her. However, Agatha refused, causing the governor to imprison and torture her. The girl eventually died on February 5, 251. A year after this event, the lives of the inhabitants were disturbed by the eruption of Etna. They went to Agatha's tomb, taking the red veil with which she was wrapped during her torture and left it in front of the city walls. Then a miracle occurred. Lava flowing from the volcano bypassed Catania and saved the inhabitants. Since then, Agatha has been recognized as a saint, and the February 5 is a day of celebration in her honor. Then the city is illuminated, and the image of the city's patron saint appears on store windows. During the holiday you can watch a fireworks display, then there is also a procession. It is a holiday extremely solemnly celebrated by the people of Catania.
Catania - beaches
Catania is not an ideal place for beachcombing. The longest and most popular sandy beach in Catania is the large, sandy city beach Playa di Catania. It is located approx. 2 km from the city center, but easily accessible by public transportation. Playa di Catania contains parts of the public beach and paid beaches with numerous facilities for tourists. There are bars, restaurants in the area, and events are held there during the summer.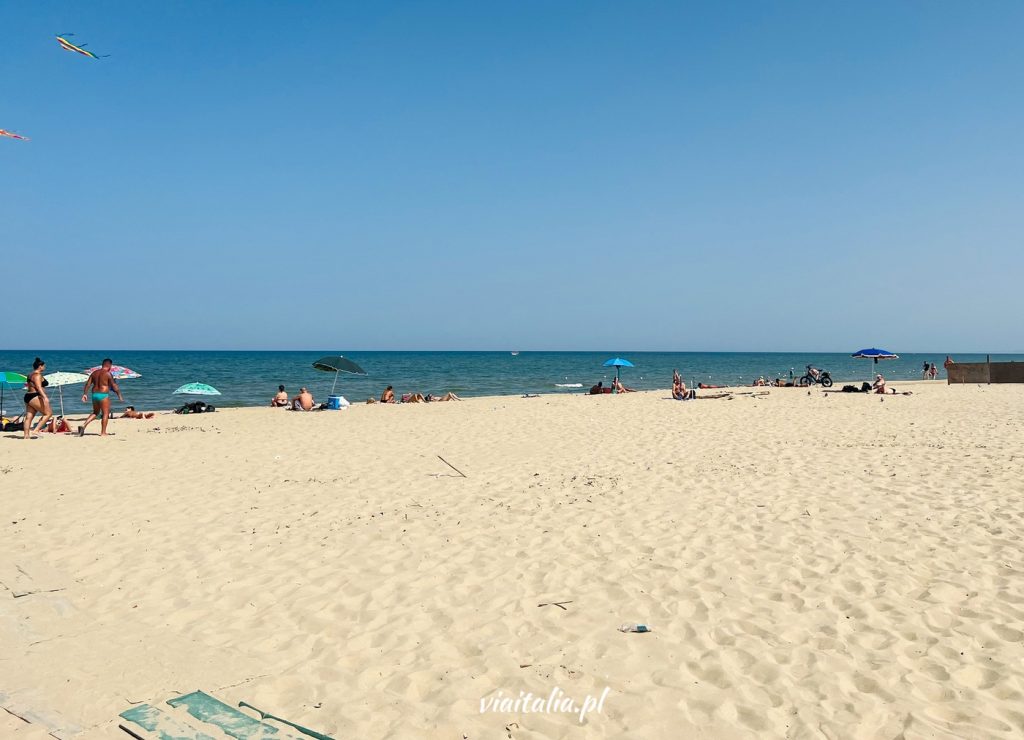 How to get to Catania?
By plane to Catania
Wanting to get to Catania, we can choose to fly by plane or travel by our own car. The fastest and definitely cheaper solution will be, of course, a plane flight. Tickets can be found starting at 39 PLN. Ryanair and Wizzair airlines offer flights to Catania from Katowice, Krakow and Warsaw. Catania Airport It is located about 5 kilometers from the city center, which is a considerable convenience, since theoretically you can even get there on foot. However, if we want to use a means of transportation, we can rent our own car (more on how to do it we wrote in our guide), get by cab, or by ALIBUS bus. We wrote a separate article about how to get from the airport to the center of Catania.
Travel by car
To get to Catania you can also choose to travel by your own car. This will be an ideal option for those who like sightseeing, because we can stop practically everywhere along the way, which makes it much easier for us to get to know not only Italian but also European cities. Going to Catania, we must remember that we will get to the island only by ferry, of course, but first, we will have to cross a large part of Italy. Ferries to Catania depart from Naples and Salerno, and the route to these cities from Poland is almost 2 thousand kilometers. However, such a trip has a lot of advantages, because we are not limited by public transportation, we can visit and get practically everywhere we want. However, we should remember about vignettes, parking fees and highways. This is a great option if you want to visit most of Sicily and stay there for a bit longer.
Public transport in Catania
Public transportation in Catania is well developed. The most popular means of transportation is the bus service operated by the company AMT. Tickets can be purchased at kiosks marked with the letter T, or at special vending machines. It is worth mentioning that traveling by public transport is one of the cheapest options, as the cost of a ticket valid for 90 minutes is only €1. Catania also has a metro, but it does not reach the most important tourist attractions, so a much more popular means of transport among tourists and locals is the bus.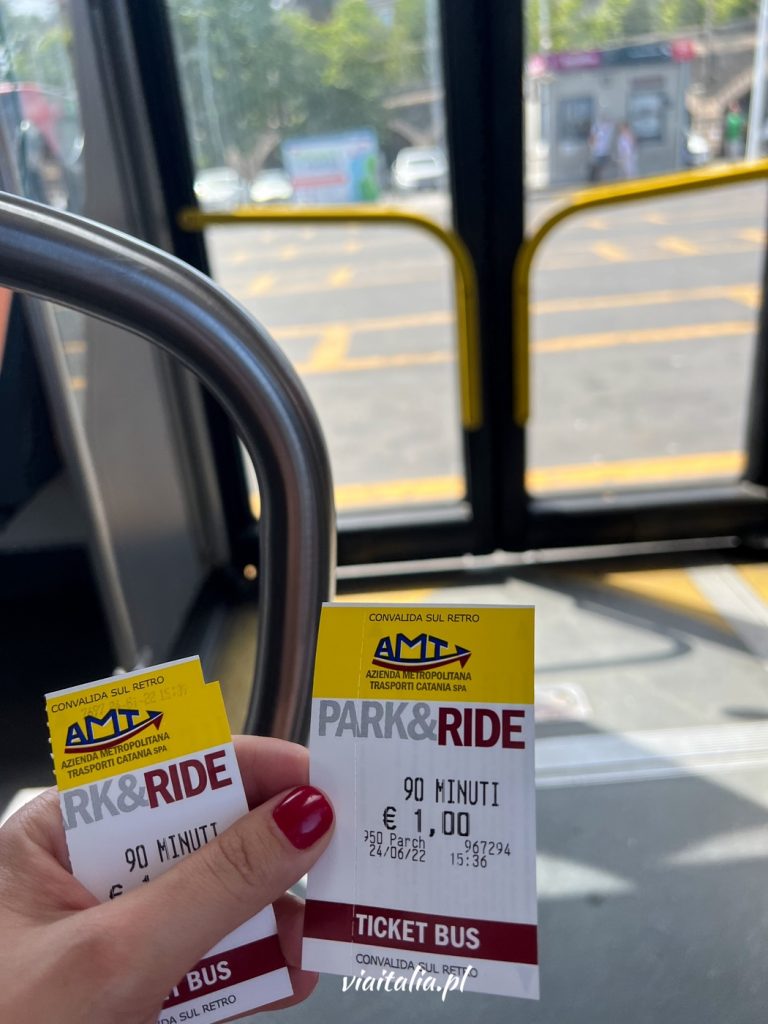 Catania - weather
The warmest time in Catania is from May to October, although November can also be quite warm and pleasant. The coldest months are January and February. This is also when the heaviest rainfall occurs.
It is worth noting that in high season in Catania as well as throughout Sicily can be really hot, and the heat can be unbearable. We, visiting Catania at the very end of June, encountered 35-40° heat. Sightseeing in such conditions was a challenge.
What to buy and bring back from Catania?
Each of us, when visiting a new place, wondered at least once what to buy and bring back with us to Poland. Italian stores offer masses of products, however, which one to choose? When going to a certain region of Italy, it is worth finding out what local products the area is famous for. Today we'll take a look at Catania and take a look at products from Sicily and give you a hint of what you absolutely must buy.
The most popular product is honey from Etna, which is considered the best in Italy. It can be found here in a variety of flavors, such as pistachio or melon. Another regional product is liqueur named Fuoco dell'Etna. This is a liquor with a unique aroma of strawberries, citrus and herbs. The alcohol content of this liqueur is as high as 70%! In color it resembles the lava of Etna. It is also worth buying pistachio or almond paste. You can also purchase pesto With a variety of flavors. For lovers of strong drinks, I also particularly recommend the following. almond wine and Zibibbo. For women, a special souvenir will be volcanic rock jewelry From the Etna area.
Where to eat in Catania? Proven places!
We wrote about what to eat while in Sicily in detail in our separate article.
And where to eat in Catania? Here's a list of our tried and tested places!
Cafe Vancu
As it is in Italy, every day should start with a delicious coffee and crossainta. We set our sights on a small cafe Vancu stirring near the center (just before the fish market). The place is very clean (which, unfortunately, is not common in Catania), and the crossaint with pistachio filling, typical of Sicily, was insane! What's interesting, Vancu On Google, it has a reputation of 5.0 (out of more than 150 reviews)!
Trattoria del Cavaliere
As for dinner, here we chose a restaurant on the recommendation of our apartment's smug host - the Trattoria del Cavaliere - And we were not disappointed. It is a place with typical Italian cuisine, where you will find all the traditional Sicilian dishes. The food is fresh and delicious, and the prices are really low. My wife was especially pleased with the price of white wine de la casa: €4 per liter!
Tip for fish and seafood fans: In the middle of the restaurant is a counter with fresh fish and frutti di mare. You can choose specifically what you want and the chef will prepare it for you in the form of your choice 😊.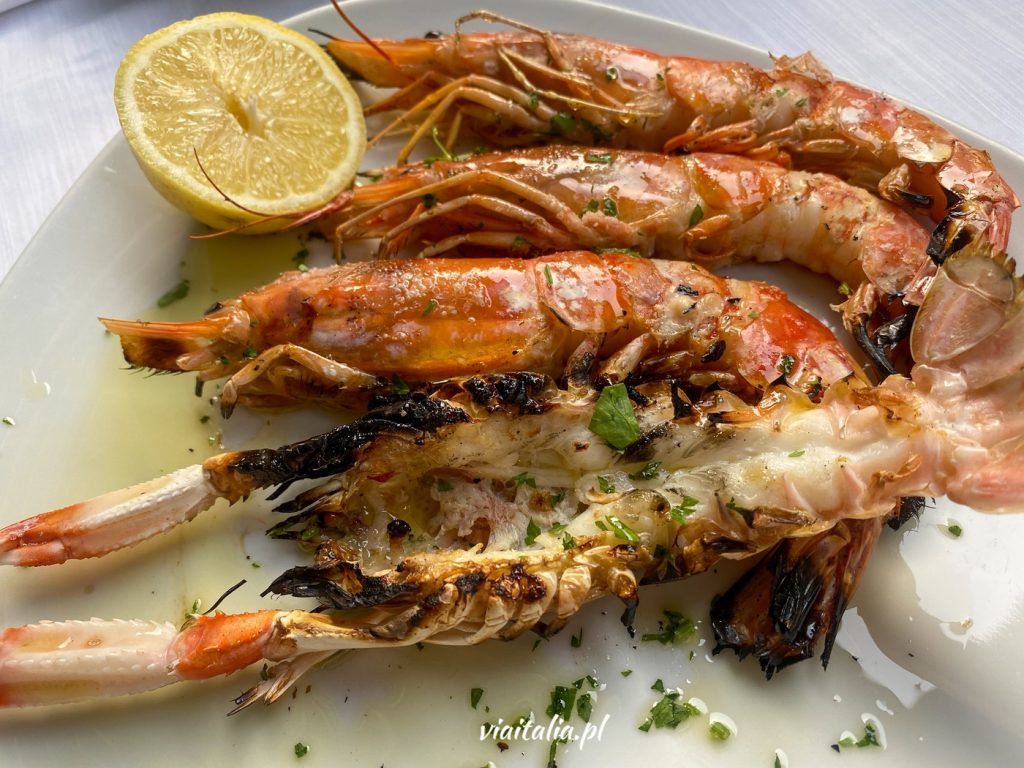 Trattoria del Cavaliere is the place where we will eat typical Sicilian delicacies - starting with appetizers: Caponata, Arancino, marinato through main courses: Pasta alla Norma, fish, moules, shrimp, ending with the Sicilian dessert - Cassata. We highly recommend it. We dined there every evening.
Pasticceria Giuffrida
Another must-see Italian vacation destination we always head to is gelato. Here we discovered a small ice cream shop - Pasticceria Giuffrida, In one of the side streets of the center. From the outside, it is definitely not inviting, while the pistachio granita and ice cream flavors gianduia masterful - definitely recommend!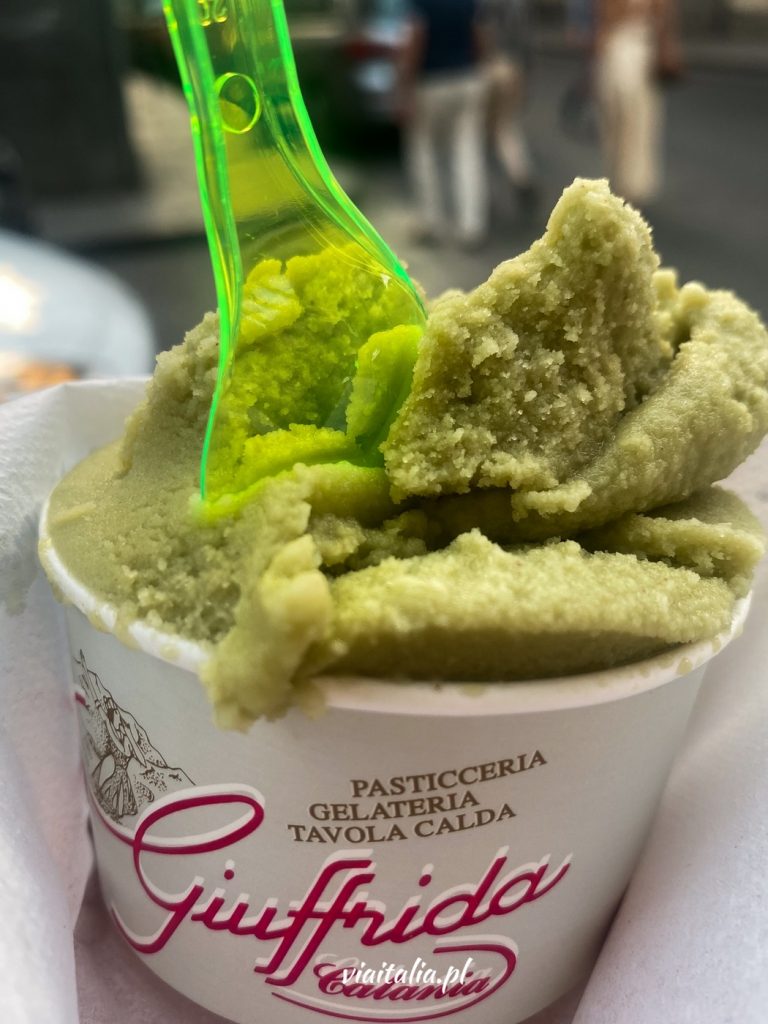 Accommodation in Catania
Accommodation prices in Catania vary. In high season, a hotel night can be very expensive. Our guide could not be complete without a recommended accommodation! We have set our sights on vacations somewhat budget and we chose a hostel Urban Pop 2 BnB, which we highly recommend! The property is a 5 minute walk next to La Pescheria fish market. It turned out to be a great base for exploring Catania. We paid about 50€ per night.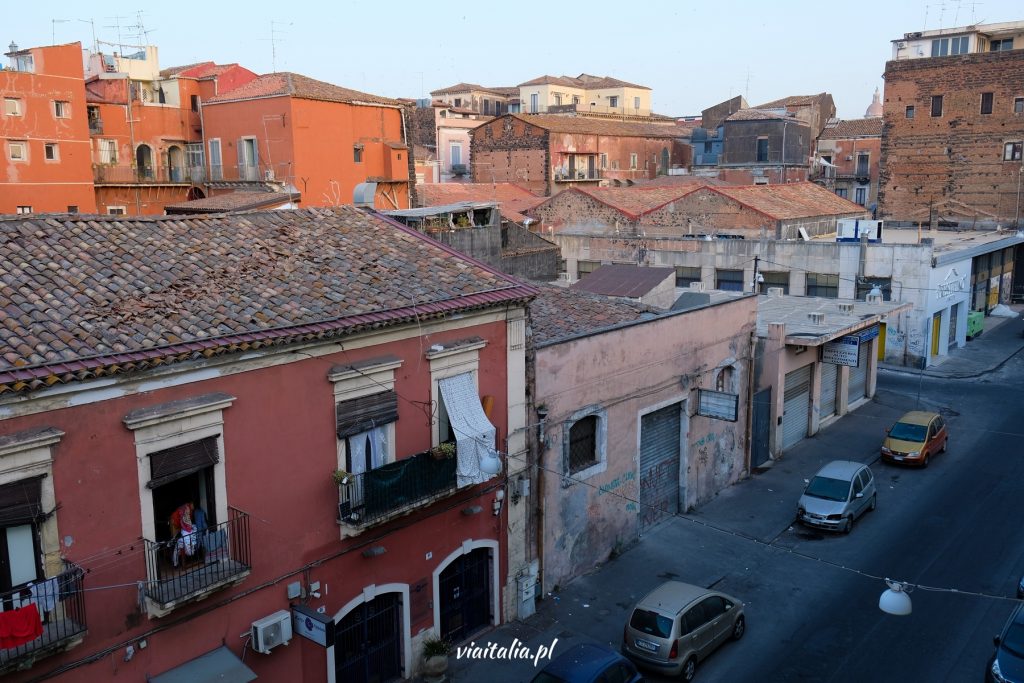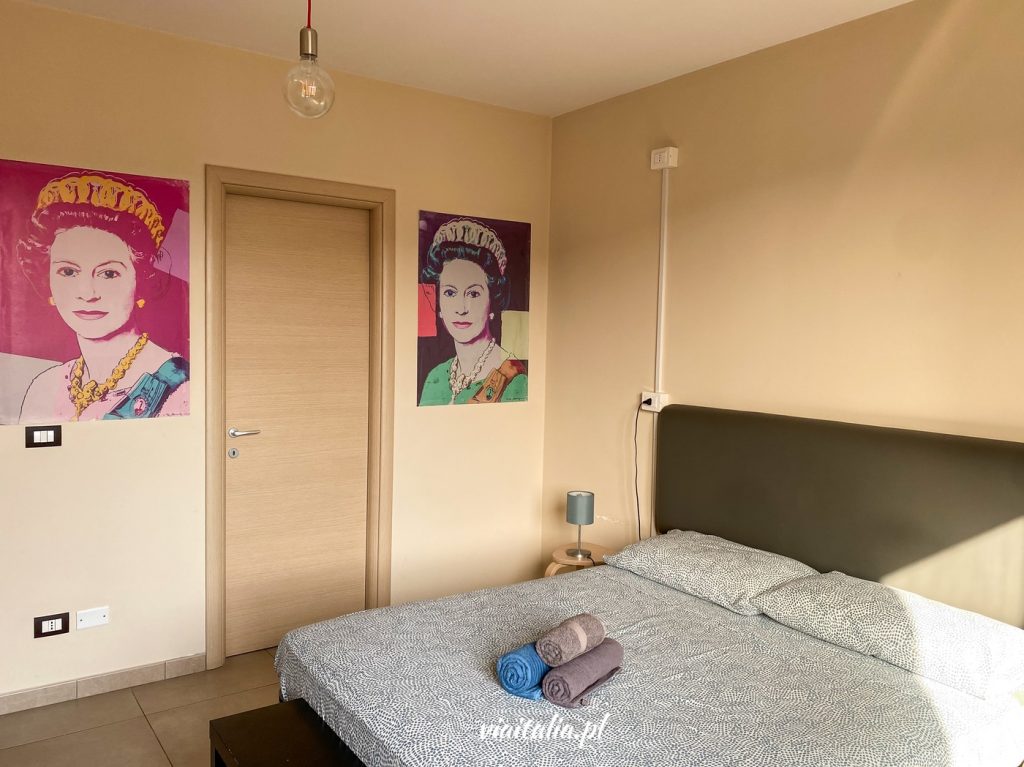 At our disposal was an air-conditioned room and a separate bathroom. The staff was very friendly and helpful, and the price to location and quality ratio is excellent!
Heading to Catania but don't have accommodation yet? Check out the available accommodations on bookings: